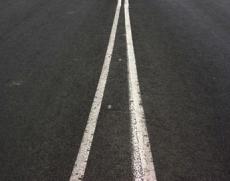 Over the years that I've been driving, my respect for various road rules has, I have to say, varied.
I've always respected drink driving laws – in fact, after driving a car once after having had just a few drinks (and so being well under the limit), I noted how my prowess had faltered and resolved to never drive again with any alcohol concentration at all.
But I've never had the same belief in speed limits – they're simply too arbitrary, especially in their ignoring of car competence, the road quality and driving conditions.
And as for laws regarding car modification, I must say that I often have little respect for these.
But there's one road law that I've always had the utmost belief in – the sanctity of the white line in the middle of the road.
Even before I had a driving licence, I remember riding with a mate in his car. He was driving on a country road and, casually as anything, he cut most right-hand corners, so drifting over the white dividing line. After he'd done this perhaps 5 or 10 times I could stand it no longer and complained long and loudly. His response: "I can see what's coming the other way" (and when he was crossing the white line, nothing was) I lambasted.  He didn't do any more line crossing for the rest of the drive…
One of the elements of driving skill is staying precisely in your own lane, whether you're driving at 100 km/h or 150 km/h. In fact, the only time I have ever deliberately crossed the white line (except when overtaking, of course) has been when I've been going for a top speed run on a deserted, straight-as-an-arrow stretch of Outback road.
And crossing double (barrier) lines I consider one of the best examples of utterly stupid driving. 
The problem is, I see this occur on a daily basis. Yes, every day. Today, for example, I saw it twice. I live in the Gold Coast hinterland, where the roads are hilly, windy, narrow and increasingly populated.
On the way down from the little mountain on which I live, a motorcyclist happily crossed double lines to firstly overtake me, and then to overtake the car in front. There was so little room that in fact he was forced to cut back in: the car I was following had to brake.
Motorcyclists on this road annoy me considerably: they apparently consider themselves fast and overtake on double lines, roaring past traffic doing the speed limit. But when I have taken the bait and stayed with them, once they reach corners, their panic is clear to see. As I wrote here, on these roads it is ridiculously easy to go faster than motorbikes. Even in my Honda Insight, when going down the hill, I can go fast enough to leave them behind. In Frank the EF Falcon, I can do it going up or down – and that applies to every motorcycle I have ever bothered to challenge. (And I'm not trying to trumpet my abilities: my wife can do just the same.)
So the barrier-line crossing motorcycles especially piss me off: they' not even fast machines being vastly slowed by normal traffic.
But I think even more dangerous are those motorists who probably consider themselves amongst the most respectful of the law.
On these roads there are stretches of very steep, heavily curved, two-lane black-top, the sort where tractors and heavily laden trucks are forced to slow to a crawl. It normally takes only a few minutes before there's a crocodile of cars behind them. Rather than pull off the road, stop, let the cars go past and then continue, what many of these drivers do is to put their two left-hand wheels on the dirt and then wave the following drivers past.
On double lines.
This is incredibly dangerous. The double lines – indicative of a blind curve or crest – prevent vision of oncoming traffic. The slower vehicles never pull right off the road, so the waved-past following traffic is forced over the lines – into the path of the (unseen) oncoming traffic.
The truck drivers apparently think they're doing the right thing – letting the cars past. The majority of the following drivers also consider themselves to be doing the right thing – following the "pass me" direction of the truck driver. Trouble is, the poor bastard coming the other way is confronted with a car on his side of the road, coming straight for him and unable to pull left because of the truck!
Aaaaaggghh.
Today, that 'poor bastard' was my wife, faced with a ute pulling a trailer, on her side of the road and bearing down on her. I was passenger and so I heartily agreed with her flashing of the headlights and the waving of one vertical finger.
And what if in these conditions there was a collision that went to court? You can be damn' sure that the person who responded to the truck driver's 'waving on' would be in the wrong.
They'd crossed double lines….