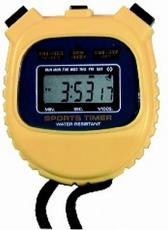 Nothing, but nothing beats timing the car on the road to find if performance improvements are really that. 
Over the years I've made plenty of modifications that resulted in no gains. One of the first was to my Holden VL Turbo, which I owned when it was only a year or so old. I fitted a new aftermarket exhaust and found that the 'before' and 'after' times had not changed. That's right: there was no performance gain.
More recently, when Frank the EF Falcon had his new cam fitted, on-road stopwatch testing again sorted fact from fiction. Despite feeling stronger, the stopwatch showed that the gains were trivial.
My favoured timing split is a rolling 60-90km/h in second gear. I hold the car at 40km/h, floor the throttle, and then click the watch at 60 and 90. Irrespective of fancy timing systems good to 1/1000th of a second, if there's less than a tenth of a second change, you'll never feel it on the road.
With practice, getting times repeatable to 1/10th of a second can be achieved, and – if they can't – noting the spread of times is almost as indicative. For example, splits before modification of 2.2, 2.3 and 2.2 seconds are obviously slower than an after-modification 1.9, 2.0 and 2.1 seconds. 
If there is no noticeable change when making these measurements, generally the power gain isn't worth it. Obvious? Not so! Some quite high-priced changes will yield an unmeasurable change in performance!
The important aspect is to believe your figures and not be swayed by the effort and/or money spent on the modifications. It's hard to do but otherwise you're wasting your time….
Another way of measuring on-road performance is with an accelerometer. Again nothing very fancy or expensive is needed – as we showed you here, you can use a boat clinometer very effectively.
Compared with stop-watched runs, the clinometer will show you the shape of engine torque development. If torque is dying away at the top end, or in a turbo car, not coming on hard enough at low revs, the clinometer will show it. All you need is a passenger to read the numbers (and write them down) as you call out 'now!' every thousand rpm. (If things happen too fast, select a higher gear and/or do repeat runs.)
The readings of a clinometer, when plotted on a graph, also show you the optimal gear change points. Changing gear at the right point can give a major improvement in acceleration times. This is because holding on to a gear too long will sometimes result in the rate of acceleration being less than if you were to change up. Conversely, changing too early can also cause a drop in acceleration greater than is necessary. Some people try to work out the best gear change points from the power and torque curves of the engine, but this ignores important factors like aerodynamic drag. Other people think that the change point should be at the same revs in each gear, but this also isn't always the case.
The best way to work out the speed at which to change up is to measure the acceleration in each gear and then plot the different curves on the one graph. It's then obvious when changing gear will result in a drop in acceleration.
If you aren't close to a dyno or can't afford its use, a stopwatch, clinometer, empty road and an assistant will give you a huge amount of valuable tuning information.