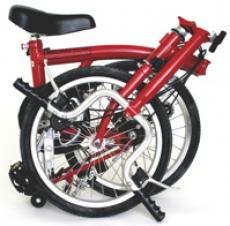 I needed to pick up a press car in Brisbane and drive it home. Living inland from the Gold Coast, that seemed easy enough. Get dropped off at the railway station. Hop on the train from Helensvale to Bowen Hills in Brisbane, then walk to where the new car was. Trouble is, that walk is about 10 kilometres…
So, rather than walking, why not take the Brompton M6R Plus with me?
This small wheeled bike, that folds into an incredibly compact package, had arrived in the Edgar household the previous week. A demonstrator for my wife's business, I'd ridden it only a few hundred metres, long enough to find the seat rather uncomfortable (but perhaps that's after the luxury of a recumbent trike seat!), that there were six gears and that the frame felt surprisingly stiff on the road. Oh yes, and despite having rear suspension, the actual available travel is pathetically small.
So my decision as to whether or not to take the Brompton was no minor thing – would this apparently toy-like machine really be practical and wieldy enough for me to take on a train? And then erect before driving through busy traffic to a destination? To Brompton aficionados this might appear to be a ridiculously easy task; to me it was something quite major.
Georgina gave me 30 seconds of tuition on how to fold and unfold the bike and then I was on my way. Carrying the folded bike through the railway station, I reflected that while it was a reasonably heavy load (12.4kg), it was by no means unmanageable. It also held itself in its folded state (no woops, there she goes unfolding!) and once on the train, I found it absurdly easy to tuck away next to the seat. In fact, as the train rolled along, I reflected that the Brompton would quite easily have fitted under the seat – it's that small.
The train arrived at the destination and I carried the folded Brompton up a few flights of stairs. Again, the load was fine. At the top I put on my helmet and then tried to remember the unfolding sequence. I got one thing wrong – you need to release and pull up the seat to initiate the unfolding, but other than that, all went smoothly. The hinges and locking mechanisms are simple but foolproof and in addition to the cleverness of the overall design, there are a few tricky touches like a folding pedal and cables that automatically tuck out the way.
OK, now what? Here's where I dive into the traffic, only to find this little bike way out of its depth. Small wheels, no front suspension, vestigial movement rear suspension, short cranks, slightly ungainly seating position….
The road from the station was downhill, and before I could really reflect on it, I found myself rolling freely down it. And going faster and faster… I fiddled with the six gears and to discover that despite my seemingly high speed, there was gearing to cope with it. And brakes too: there was a red light at the bottom of the hill.
So far, so impressive.
The actual ride quality depends a lot on where you place the wheels: I soon found that a slight bum lift over the bigger bumps took away a lot of the impact harshness. That said, this is not a bike I'd like to pedal on unknown roads at night.
I negotiated a few roundabouts and then, because of very confusing traffic flows, took briefly to the footpath. There the bike was absolutely manoeuvrable and surprisingly stable.
But then I came to the road that gives this story its 'Red Rocket' name, a place where 'my' Brompton could shake off its school-marmish looks and revel in its normally hidden speed status. This road was narrow and populated by big trucks. The footpath was awful so I was out there with the traffic. But there was a trick up my sleeve; two tricks, actually. One was a pretty big tail-wind and the other, that marvellously tall gearing.
Rather than adopting a meek and mild stance, I decided I may as well try to ride as fast as the big trucks; that way, they'd not have to try squeezing past me. With traffic lights every kilometre or so, it became a viable challenge. But only if I averaged something like 40 km/h….
So with the trucks sniffing at my elbow, the gutter just inches to my left and the road surface varying from metal grilles to patched bitumen to longitudinal striations, the Brompton and I let loose. Pedalling as fast as my legs could carry me, I punted down that road, ears filled with the roar of the induced gale, trucks, cars, more trucks – and my hard breathing.
It was dangerous, it was fast, it was hairy – and it was enormous bloody fun.
And the Brompton was up to it. My pocket rocket powered along, stable, forgiving in the steering and handling, coping with the buffeting and the indifferent road surface. It wasn't particularly comfortable, but it was efficient and quick. I don't know how many minutes I was on that section of road – and it probably wasn't more than ten – but I don't think I have ever pedalled any machine so fast.
I slowed down before I reached my destination – I didn't think I should arrive looking wide-eyed, tousled and yelling with hysterical laughter – and so it was with complete composure that I folded the Brompton and left it unobtrusively in the foyer of the office building before climbing the stairs to pick up the key of the car I'd come to collect. The Brompton then went into the boot and I went into the driver's seat.
A meek and mild folding bicycle, fit for practical duties like shopping or riding happily down cycle paths in the sunshine…. or a thrilling pocket rocket capable of mixing and matching it with the best.
Some bike, this one…