Over the years I've spent a lot of time in TAFE libraries (for those not living in Australia, technical college libraries). In addition to the very valuable automotive books, it's the engineering papers that are the most interesting.
Each year the Society of Automotive Engineers publishes numerous technical papers on all topics automotive. You can buy them as downloadable pdfs by going to www.sae.org – but because you can see only a précis of the paper before you need to get out your credit card, this can be an expensive way of acquiring information. However, technical college libraries often have some of the papers, especially in the book form that the SAE occasionally publishes.
The ability to keep on the cutting edge of change is one clear advantage of the SAE engineering papers, but there's another major advantage that's often overlooked. And what's this other advantage? If you own an older car, it's possible by consulting the papers of that era to find stuff that's directly relevant to your machine.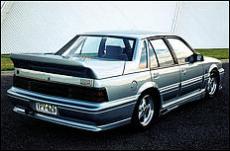 In 1990, when I owned a VL Holden Commodore Turbo, I was frustrated by its lack of aerodynamic development. The standard car was lousy and there were no simple off-the-shelf improvements available. The HDT Brock Commodores had body kits developed with no scientific input, and the pictured groundbreaking 'Walkinshaw' Group A, the first HSV model and one shaped with a huge amount of wind tunnel work, was too expensive to buy. (And it didn't have the turbo engine.) And because the Walky was a near new car, you also couldn't buy copies of its body kit.