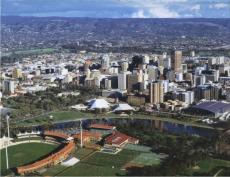 As I write this I am back in my home town of Adelaide. I lived here, and also in various parts of country South Australia, until seven years ago when I moved to the Gold Coast hinterland.
Adelaide is a strange place to drive in. Long ago, in the Sixties, it was decided that the city would better prosper without a freeway network. The MATS plan, which laid out freeways across the suburbs, was abandoned with the smugness with which only Adelaideans can reject change and progress. For many years it didn't matter: the grid-like network of secondary roads sufficed, and the clever sequencing of traffic lights improved arterial flows considerably.
But now, especially with the widespread introduction of 50 km/h speed limits, car travel in Adelaide is mind-bogglingly slow. It's a fact that a city trip that in Sydney or Melbourne or Brisbane non-peak-hour might take half an hour, takes in Adelaide a full 60 minutes. Every time I come back, I am late for appointments because I simply miscalculate how long it takes to travel even a short cross-city distance. It's not even any use looking at public transport: the bus service is as slow as the traffic (except for one dedicated route, there are no bus lanes) and the suburban train and tram services are awesomely inadequate.
However, I have found a solution.
It doesn't help those who really need to drive a car, but it relieved a lot of my travelling frustration. And I discovered it almost by accident.
On this trip I brought with me a Brompton folding bike – my wife is a dealer in the machines. These bikes use small wheels but still have a full-size riding position and, in the model I ride, six gears. The folded package is so tiny that it cost literally nothing to fly it with me as checked-in baggage. I like the bike but I had previously seldom ridden it – as regular readers will know, I am a recumbent trike enthusiast.
But here I was in Adelaide with the Brompton. I was staying at Glengowrie and decided to jump on the bike to ride into the city centre. I had a map that showed cycle trails and one appeared to lead into the city along the old Glenelg steam train route. The trail proved excellent and I soon found myself in Thebarton. (An aside: I could have ridden the Brompton bike to the suburb of Brompton; a good photo opportunity but I didn't think of it at the time.) Anyway, when I got to Thebarton, I thought: why not ride down Port Road a little way? The road was wide (the canal that was to flow down the middle of the road was never built; just as well considering the relative elevations of the CBD and the port…) and, being Adelaide, the traffic just crept along.
I kept on pedalling, the flat terrain making it easy. I stopped for lunch – Adelaide bakeries are wonderful and Farmers Union iced coffee is simply the best in Australia – and then got back on the Brompton. I reached West lakes, then thought I may as well thread along to Port Adelaide, and then to Semaphore. From there I rode along the coast, back to Glenelg and then to Glengowrie.
Now of course for those who don't know the city, this geography lesson is pretty impenetrable. But the distance I rode in the three hours was a bit over 40 kilometres, and the slow traffic, provision of on-road and off-road bike lanes, and absolutely flat terrain, made it all so easy.
With a 20 degree C day and not a cloud in the sky, I enjoyed myself hugely.
In fact, when the next day I needed to pick up a press car from Holden in the city, I cancelled my lift and rode the Brompton into the city instead. (And then, after picking up the car, folded the bike and tucked it into a corner of the boot!)
This is not to excuse the inadequacies of Adelaide's road network, nor the shortsightedness that has led to a near complete absence of freeways. And as for the speed limits imposed on drivers, in many cases they are simply ludicrous.
But with fair amount of design and a dashing of serendipity, the city has become a wonderful place in which to pedal. I'll certainly bring my Brompton back with me, and if I can manage to do so, my full suspension, 81-gear, disc-braked recumbent trike. If it's not raining, I reckon I'd take the trike over almost any car you care to name for an Adelaide commute up to 30 kilometres – at least I won't spend all my time feeling frustrated! I also think that point-to-point over that distance, the trike may well be quicker than a car…