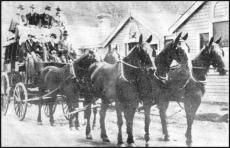 I have never been for a ride in a stage coach but it's something I'd very much like to do. And preferably at full speed, the team of horses at a gallop. Why? Well, primarily because I wonder how well the coaches ride.
I have a book on Cobb & Co, the best known and largest of the stagecoach companies in Australia's history, and the map showing the routes that the coaches took is stunning. Especially in Queensland, they penetrated way into the inland – true Outback territory. The roads – always dirt and often largely unmade – were terrible and yet the point to point times were actually quite quick. (The coaches ran to timetables like buses do today.)
The coaches used long-travel (and large!) elliptical leaf springs – sometimes transverse as well as longitudinal – and had huge wheels. AFAIK, damping was provided only by the inter-leaf friction of the springs – no dampers were fitted.  In short, the suspension design was as far away from contemporary small wheel, short travel, highly damped suspensions as possible.
But I have a suspicion that these vehicles might have had a very good ride indeed. The large wheels simply wouldn't have noticed the bumps that a modern car's wheel would crash into; the very long suspension travel and low natural frequency (at a guess the static deflection would give a resonant frequency near to 1Hz) is close to ideal for human comfort.
A horse-drawn stage coach riding better than a current car? I wonder…