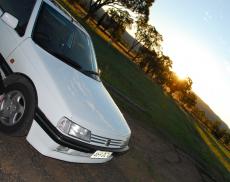 A while ago I attended an electric car show held in Sydney. I made the 2000-odd kilometre trip in my Peugeot 405 diesel, a car that, incidentally, gained high Fives (in litres/100km) for the trip.
At the show I briefly sampled three of the home-converted electric cars – a very interesting experience. And on the long drive home to the Gold Coast, I had plenty of time to reflect on these cars.
The electric cars I drove each retained the original gearbox: the electric motor was bolted up to the 'box and the ratios could be selected by the driver. Typically, the cars were started off in second gear and then third and fourth and fifth gears were used as appropriate. (I used first gear off the line and felt an immediate gain in starting performance.)
But none of the cars I drove had performance that came close to conventional petrol engine (or even commercial hybrids). Even when the electric motor was rated at a higher power than the original engine, the massive weight of batteries substantially dulled the resulting power/weight ratio.
Putting in a more powerful electric motor (or running two electric motors) would of course help solve that, but at the expense of greater electrical power consumption that in turn would need either more batteries or result in a shorter range (and none of the ranges were very good to start with!). However, all the cars could easily exceed the 110 km/h open-road speed limit.
Clearly, what is needed is an electric motor that has only enough power to do the job – but no more.
Performance nuts always talk acceleration times, but acceleration is enormously power-hungry. So what, in the real world, is sufficient power?
One answer is the power required to drive along a country road at the speed limit. In addition to the power required to overcome aero drag, you also require the additional power to climb hills.
Thinking along these lines as I drove open road kilometre after kilometre, I realised that the 1.9 litre diesel in the Peugeot was probably very close to the requirement. Oh no, not its peak power output, but instead the full-throttle power it was developing at about 2000 – 2500 rpm.
The Peugeot runs these revs in fifth gear at around the open road speed limit, and I found in the 1100-odd kg car that nearly every open-road hill could be climbed without a down-change (and so using higher revs). There was also enough power to battle headwinds, overtake slower cars, etc. No, you're right – holding it in fifth and just flooring it didn't make the Pug a performance car (not by a helluva long way!) but it was just competent.
And having dyno'd the Peugeot, I can tell you exactly how much power is available at the wheels at 2000 – 2500 rpm. The answer is about 30kW.
Now it starts getting tricky, but in round figures, I therefore reckon an at-the-wheels power/weight ratio of about 27 kW/tonne would be sufficient, if the powertrain was geared so that maximum electric motor speed was reached at the open-road speed limit.
Running an electric motor developing an at-the-wheels 27 kW/tonne and gearing it so that peak electric motor rpm occurred at 110 km/h in top gear would therefore give sufficient open-road performance. And, with the ability to then lower the other gear ratios, torque multiplication would be increased at all lower speeds.
This is not some profound breakthrough, but it does show two things.
If you're prepared to live with a maximum speed of 110 km/h, and you have an aerodynamically slippery car, an at-the-flywheel power of (say) 35kW/tonne is probably enough for the real world.
And when you're working with such low power outputs, and a motor that's most efficient at its rated (high) speed, gearing is very important.