Regular readers will know of my admiration for the Toyota Prius.
That's not just because I own a first series NHW10 model (currently off the road with a worn-out high voltage battery) but primarily because of the commercial success the Prius has had.
Simply put, in terms of actual impact on the market, the Prius stands head and shoulders above any 'alternative' car that has been sold in perhaps the last 75 years.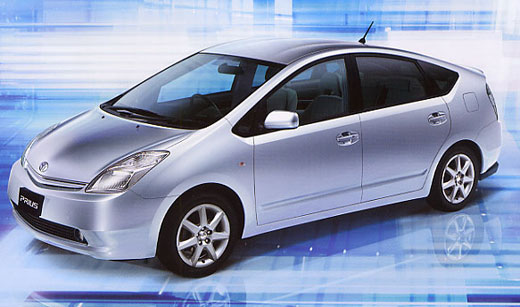 It therefore behoves anyone enthusing an alternative automotive technology – whether that's biodiesel, LPG, pure electric cars or anything else – to know the Prius inside-out. To know its equipment level, its warranty, its real-world fuel economy, its emissions performance, its new and used prices, and its technology.
Like it or not, the Prius sets the current benchmark.
Nope, not necessarily in any one specific area – emissions, fuel economy, driveline technology, control electronics or even high voltage battery technology – but in a total package that has been successfully sold to the public for a decade.
And, because of that timescale, it is a car that is now available very cheaply second-hand.
That might all seem obvious – but it is certainly not to some.
I recently had long phone discussions with a man very enthusiastic about DIY biodiesel. He runs seminars on the topic, played an instrumental part in developing a home biodiesel plant, and is highly educated. But his knowledge of the Prius (and other hybrids) is poor indeed.
With regard to hybrids, his website contains errors of fact and makes some statements that could only be described as wild scaremongering.
Statements like he believes that there's intrinsic danger in having a high voltage battery pack near the petrol tank. After I saw that, I asked him if he'd ever even seen a Prius battery back, let alone pulled one apart and studied its construction. He hadn't, and seemed amazed I would suggest that he should have done so before making such comments.
He also suggested that for city fuel consumption, a hybrid is only a little better than a diesel. When I pointed out that this is rubbish – and my statement is based on actual testing we have done of diesels and hybrids in city conditions – he was surprised. It turned out he hadn't ever driven a hybrid car – let alone driven one in dense city traffic.
If the Prius was some obscure and expensive car difficult to find, perhaps that would be understandable. But secondhand (grey market Japanese import) Prius can be bought from AUD$10,000, and the far superior NHW20 (current model) costs about AUD$20,000 secondhand. And of course, pretty well every Toyota dealer has new ones on their showroom floor.
And it's not just the Prius. Honda has the hybrid Civic and Lexus its hybrid cars.
Again, if you're a regular reader of AutoSpeed, you might say: so what? But when I pointed out to the biodiesel man that, in heavy traffic, a hybrid spends most of its time with the combustion engine switched off – and how the hell could an always-running diesel engine compete with that? – there was a long silence.
This is not to say that I think diesels – and especially biodiesels – are anything less than a very important and significant development in the chase for lower fuel consumption and reduced greenhouse gas emissions. But the credibility of those pushing diesels (and biodiesel fuel) suffers rather a lot when as part of the information they disseminate, major errors of fact are promulgated.
Things in the automotive industry are changing fast. Automotive workshop personnel who see a stream of late model cars constantly re-evaluate their benchmarks and their technological understanding.
The people buying new cars follow car technology closely – especially those tossing up the relative merits of buying an economical petrol engine car, a turbo diesel or a hybrid.
So those pushing a particular 'green' car approach need to be very careful that they don't start shooting for goals that have already been left behind…