Regular readers will know of my pictured Peugeot 405 diesel turbo, a car that I have discussed in AutoSpeed and which has been modified in an effective – but very cheap – way.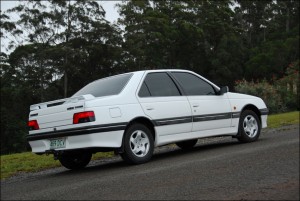 In the short time that I have owned it, the 405 has proved to be a very good car – extremely comfortable, competent handling, excellent ride, and very economical. With the boost, intake, exhaust and fuelling mods, driveability improved dramatically. For example, the time to go from 80 – 100 km/h in 4th gear was halved. It was this sort of change, rather than a massive increase in peak power, that made the car so much nicer on the road.
In fact, the 405 has been doing everything that we've been asking of it – and turning in fuel economy figures of 5.5 – 6.9 litres/100km.
So why the change of car? The greatest problem with the 405 is its old diesel injection system. It's a purely mechanical system that controls fuel and turbo boost and fuel injection timing. That makes it simple to tune – all you need is a screwdriver and spanner – but it also considerably limits the modifications that can be made.
In these times where electronic fuel injection systems are largely an open and shut case, not being able to apply any electronics to the modification process is very limiting.
The lack of electronics in the 405 also reduces the broad application of the diesel modification stories that I do in AutoSpeed.
So, time for another car.
As I've said previously, I think that petrol engine cars are now fairly passé, and that the coming automotive world belongs to hybrids and diesels. I've already got a hybrid Honda Insight, so the replacement for the 405 was always going to be another diesel, but this time one with electronic management.
Here in Australia, older diesel cars are rare; it's only in the last few years that the market for diesels has started to take off. Therefore, there's only a very limited number of secondhand diesels to pick from – Peugeot 306 HDi (almost never seen), Peugeot 307 HDi, Golf TDi, Polo TDi – and, well, very little else! A few Japanese market grey imports around the edges, but in terms of cheap electronic injected diesels, that's about it.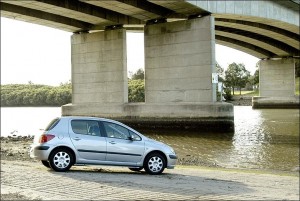 To cut the story short, I selected a Pug 307 HDi. In addition to the common rail direct injected engine, the 307s also come with six airbags and have good crash testing results. They're also the cheapest of the electronically injected diesels, costing from around AUD$16,000. (As I found with the 405, diesels really do hold their value very well.)
The earliest 307 diesels come with a non-intercooled, non variable geometry 2-litre, 8-valve engine developing only 66kW and 205Nm. (Later cars have variable geometry turbos, intercooling, 16 valves – and 100kW and 320Nm.) However, while the lower power looks like a major shortcoming, fitting an intercooler and pumping up the boost should be straightforward.
I tested one of these cars back in 2003 (see here) and was largely impressed, especially with the fuel economy, which in a week of Sydney driving, showed a poorest result of 6.2 litres/100km.
As you'd expect, the later, more powerful cars cost a lot more, so when I found an early 307 HDi with 110,000 kilometres, dealer servicing and in excellent condition, I bought it.
On the 200 kilometre flat freeway drive home at 100 and 110 km/h, it turned-in an indicated 5.0 litres/100km….