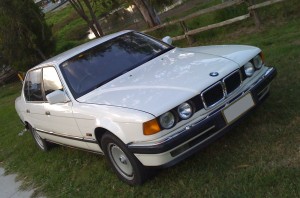 It's perhaps the only car that I have always wanted – well, from the day of its release, anyway.
The year was 1988 and the BMW 750iL was an astonishing car – twin electronically-controlled throttles, 12 cylinders, a limousine that handled so well that contemporary magazine testers were able to triple advisory speed limit signs around corners. On just six of the twelve cylinders, it could still exceed 200 km/h…
I've watched and watched as their prices have fallen – in 1988 the cars were $216,000; each year since they've got lower. Now, they're under $10,000.
Less than ten grand for what was amongst the very fastest of four door cars in the world, a superbly equipped, beautiful looking sedan from that long ago time when BMW styling still had grace and cohesion.
Now some might be wondering how a 12 cylinder limousine fits with my love of hybrid cars, and my ownership of a Honda Insight and Toyota Prius (the latter currently off the road). But there's no conflict: first and foremost I am a car enthusiast – that's all cars. I have absolutely no problem with enthusiasts driving the thirstiest, most polluting of cars – if they are used only as collectable, weekend fun cars.
And for me, a BMW 750iL would be just that – a weekend toy to cruise in. I'd drive my tiny 1-litre, 3-cylinder + electric car during the week, then step into a 5-litre, 12-cylinder  long-wheel-base classic on weekends. And love doing so.
'BMW 750il' are letters and numbers I type into car sales websites on a regular basis – probably every few weeks, in fact. Doing this has taught me that the current value is about that aforementioned $10,000 – a little more for low kilometre cars with service records; a little less for private imports or high kilometre cars.
So when I saw the white BMW 750iL parked beside the country road that leads down from the mountain where I live, my eyes were immediately drawn. Especially when I saw the 'Want this?' sign (that's used instead of a 'For Sale' in this area).
I pulled over, inspected the car – and was impressed with its condition. Especially when I saw the $9,500 asking price.
I was on my way to an appointment, so I had plenty of time to mull over it. If it had less than 200,000 kilometres on it and had service records, at that price it would be very attractive. I rang the number to find that both applied – and it was a two-owner car!
This was looking good…
I agreed to meet the owner back at the car but arrived early, early enough to look really closely. I found a few deficiencies – some odd dents in the roof, and the lower half of a door had been (pretty poorly) re-painted. These cars are notorious for having defective rear dampers – as these are self-levelling air designs, a very expensive fix is needed. So I bounced the front and then the back, to find that the front was as I expected – pretty soft – but the rear was very firm.
Still, that wasn't nearly enough to discourage me…
The owner arrived, I inspected the interior (near perfect!) and then we went for a drive.
Well!
I need to preface these comments with the fact that I know it was a 20 year old car. I know that even with only 187,000 kilometres covered over that time, you don't expect it to drive like a new car. I also know that even with very extensive receipts, including some for expensive maintenance on the rear dampers, you can never be sure that the car isn't exhibiting problems of age rather than design. However, by the same token, it would be hard to find an unrestored car with such a good history.
But to be blunt, I thought it drove pretty horribly.
The steering had a very slow ratio around centre, immediately making the car feel unresponsive. The throttle was long-travel and even when it was nailed to the firewall, the performance (of this car anyway) wasn't anything to write home about, The rear suspension was as stiff as an old Holden ute (surely there must have been a problem with those 'fixed' dampers); there was a whine from somewhere (fuel pump?) and the trans simply felt old.
And it wasn't like driving an old classic – say a 1960s car – where some of these traits would be forgivable. Instead, it was very much like driving a well preserved mid 1990s Holden Statesman, but with better interior features and trim.
So now, after exactly 20 years of longing for one, I don't want a BMW 750iL any more…