The other day I made a purchase that can only be considered an amazing bargain.
I first saw the goods (and then bought them) on Australian eBay, but by going direct to the manufacturer's site, you can get them even cheaper.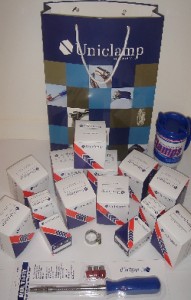 So what am I talking about? Hose clamps – no less than 150 of them!
For just AUD$64.90 you get 150 stainless steel hose clamps to suit hoses from 6mm to 60mm. The clamps are packaged in boxes and appear to be of good quality.
And not only that, but you also get a flexible drive screwdriver (complete with three different sized socket bits to suit the clamps), a travel mug and a carry bag!
The company claims the retail value to be $240 – and that sounds about right.
The $64.90 cost includes postage to anywhere in Australia, and mine came delivered in a good quality cardboard box.
The deal is 'while stocks last' so you'd better get in fast!
Go here for the details.