The boom in GPS-based navigation systems must have seen a diminution in sales of book-based street directories. I haven't seen the figures to support that, but it's certainly what you'd assume to be taking place.
But the companies that produce street directories (and of course in many cases also supply the software for the nav systems) are fighting back.
Into my in-box lobbed the following email (I've edited it a bit):
New UBD drives greener car use
With over 3 million registered vehicles across Queensland there is no doubt we're a state of car lovers. However we are also becoming increasingly 'greener', keen to reduce our environmental footprint and aware of the impact driving has on habitats, air pollution and climate disruption.
The first street directory of its kind in Australia, the UBD® '09 Green Brisbane, Gold Coast & Sunshine Coast Refidex is aiming to help shape the way consumers think about transport and the environment and how they use their cars now and in the future.
The new UBD® 09 Green Brisbane Street Directory is just like the original UBD® only 'greener,' printed on 100 per cent recycled paper with soy based ink and the cover is 100 per cent biodegradable.
UBD®'s latest directory also includes a 'Guide to Getting about Green', developed with the support of Australian environmental agencies.
With a list price of $34.95, the UBD® '09 Green Brisbane, Gold Coast & Sunshine Coast Refidex is available from department stores, newsagents, automotive stores, bookshops or at your local service station.

One important thing to remember when purchasing the new UBD® is to recycle your old one – don't just dump it! Visit recyclingnearyou.com.au for information on your nearest recycling outlet.
-ends-
For more information or review copy requests please contact:
…and then followed the appropriate people from the PR company.
So I replied and in due course, a review copy of the new street directory arrived, gratis.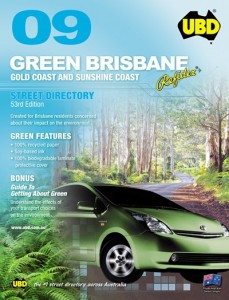 So what's it like? A truly revolutionary breakthrough? Well, no.
But it's also not half bad – as a normal street directory…
In terms of its green credentials, I imagine any mass-produced 1.6kg book is going to have a pretty big carbon footprint – especially since it's designed to be turned-over on an annual basis. (But then again the company tells you how to recycle the book…)
In terms of green driving credentials, all I can say is that it is a start. There're fourteen or fifteen pages on getting best fuel economy, reducing emissions, picking the right car and so on.
But I looked in vain for specific cycling maps, walking maps, green tourist attractions – or any of hundreds of related things that could have been included.
Similar directories are being produced by UBD for all the Australian capitals.
I hope that next year's version pays more than just lip service to environmental ideas.