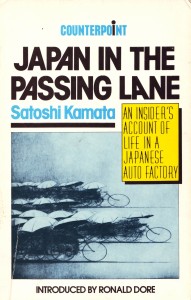 I've just read a fascinating and powerful book.
Japan in the Passing Lane was written in the early 1970s by Satoshi Kamata, a Japanese freelance journalist. The English translation was published in 1983. Kamata's preferred title – Automobile Factory of Despair – is perhaps a better description of the book's contents.
Kamata joined Toyota as a seasonal worker, one employed for a 6 month period. In the book he describes by means of a daily diary what life in a Toyota plant was then like. The job was harrowing, exploitative, mind-numbing, dangerous – and enormously hard work.
The assembly line moves so fast that Kamata, working in a plant making gearboxes, can barely keep up. That might be understandable when he was first introduced to the job, but it also remains the case months later.
He describes the tasks he has to do at his station:
1. I pick up two knock pins (small pieces of steel shaft) with my left hand from a parts box (where identical parts are stored) in front of the assembly line. I insert them into the upper holes on a gear box and then knock them in with the hammer in my right hand.
2. With my right hand, I take an input shaft out of a tin box coming down the assembly line. I insert it into the center hole of the gear box. Holding the input shaft from the other side with my left hand, I drive it in with the hammer. (Sometimes it doesn't go in easily.)
3. With my left hand, I screw a synchronizing ring to an end into which an input shaft has been driven.
4. I turn the gear box around.