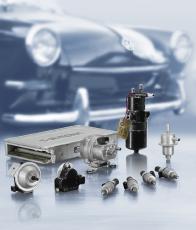 Arguably the biggest driver of car engine technology over the last 40 years has been exhaust emissions legislation.
The original Californian Clean Air legislation introduced in 1967 hastened the advent of electronic fuel injection (the pictured Bosch D-type system has just celebrated its 40th anniversary – and only 5 years after introduction, it was being used by 18 car manufacturers) and the march of clean emissions progress has barely slowed since.
These days, of course, the shift in focus has been from oxides of nitrogen and carbon monoxide to CO2 outputs.
But what actually are the standards causing so many engineers to pull out their hair? The laws rumoured to have lead to the foreshadowed demise of Ford's Australian engine factory (more on Australian car manufacturing in an upcoming blog post) and which are making it so difficult to sell diesels in the US over the next few years? You'd think that getting a handle on all the laws would be damn' near impossible – but that's not so.
Here you'll find a pdf download that shows all the current and pending emissions legislation in the major markets of the world. And not only that, but it also shows the different legal test cycles and defines tags such as LEV (low emissions vehicle), ULEV (ultra low emissions vehicle) and ZEV (zero emissions vehicle). It's easy to remember the required data on the last: a 'nought' next to every emission!
For our Australian readers, Page 39 of the download has the data on this country.
The On-Board Diagnostics requirements are also interesting, especially in terms of how bad emissions can get before the warning light is triggered.
But while all that is well and good, it was the page entitled 'Environmentally Related Initiatives for Passenger Cars' (page 60) which most took my attention.
I don't think even the most rabid big engine, heavy car nut would suggest that there should be no measures in place at all to encourage the widespread use of environmentally friendly cars for everyday activities. And around the world, there are plenty!
In Germany, an annual tax based on fuel consumption and exhaust emissions. In Japan, a Green Taxation System for low emission and fuel-efficient vehicles.  In The Netherlands, car registration tax based on vehicle performance in seven categories including fuel consumption, CO2 emissions and "an efficiency indicator proportional to other cars of similar size".  And of course the US has its CAFÉ laws – Corporate Average Fuel Economy where car manufacturers are fined if their fleet exceeds the legislated average. And that average is tipped to shortly rise a long way…
Back here in Australia – and in fact in my home state of Queensland – the government has introduced higher stamp duty payments on cars other than hybrids. In other words, when sold, hybrids now attract a lower level of tax than other cars.
Now despite owning two hybrids, and being a fan of the technology, I think this is simply stupid. As the measures above show, you don't need to embrace any specific form of technology – just set the disincentives on the basis of emissions and/or fuel economy.
The download may look like a bunch of dry data, but it has enormous implications for the performance cars you and I will drive today and in the near future.
It's worth a browse.