Unusually, in this blog I want to refer you all to the AutoSpeed article that was published today. As I have written above, I think it's probably the most important article that we'll publish this year.
So what's it about?
In short, the article is based on a paper written by Dr Andrew Simpson when he was working for the Sustainable Energy Group at the University of Queensland. His paper looks at a huge number of alternative fuels and drivelines, concluding which are the best from both energy efficiency and greenhouse gas emissions perspectives.
Andrew has given us permission to use major excerpts of the paper, and in fact went through it again to ensure that his conclusions are current. The full paper can be downloaded from the link at the end of the article.
His is a detailed 'well-to-wheel' study, where the environmental costs of producing the fuel and the efficiency of the cars using them are evaluated. Even better, they're all benchmarked against a real car, the Holden Commodore. Even better again, the alternative fuelled cars are modelled to have the same range and performance as the Commodore.
So what we have is a paper that in one fell swoop shows many alternative car concepts – even quite high profile ones – to be pointless.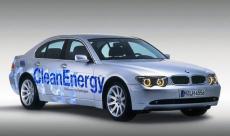 You may have seen that recently BMW had their hydrogen-fuelled 7 series in Australia. OK, now read the article on the well-to-wheel energy efficiency (and greenhouse gas emissions) of using hydrogen-fuelled internal combustion engines…
You may think that hybrids are the answer. Read the article on their real performance when compared on a level playing field.
You may believe that biodiesel is a far greener fuel than petroleum diesel. Read the article.
An LPG enthusiast? Read the article…
Some of the results may be arguable (especially when the embodied energy and life of battery-electric cars are examined) but this paper is by far the best I have ever seen at establishing what the current ground rules are.
In short, it's a blueprint for where automotive technology should be heading in in the next 5 and 10 years.
And Dr Andrew Simpson? It won't be giving away too much of the paper's conclusions to tell you he now works for Tesla Motors in the US – that's the company building one of the most interesting electric cars ever produced…