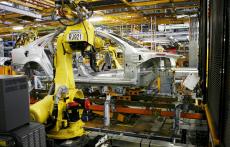 So now Ford in Australia is to close its Falcon/Territory engine plant and locally assemble the European-designed Focus.
The Ford engine plant termination follows Mitsubishi closing its engine plant a few years ago and Nissan shutting its Australian car manufacturing operation in 1992. Going back even further, we had (amongst others) Toyota, Renault and British Leyland products built locally. But no more.
Now there's just Holden (building both engines and cars), Ford (to be building just cars), Mitsubishi (cars) and Toyota (cars).
Mitsubishi, with its 380 model production, is in a perilous state: in spite of protestations from the company, it can't be viable in a worldwide context to make the tiny number of cars being sold. Holden, despite recently releasing the VE model (effectively, a completely new car), has also found it not selling to expectations – more imported Corollas are at times moving out the door of opposition Toyota dealerships. Ford, just about to release a new model Falcon, has also been doing it tough. Toyota, the cashed-up behemoth, is – through the Aurion – exploring the large six cylinder market previously dominated by Holden and Ford. But Toyota also has a fall-back position in the shape of the locally manufactured four cylinder Camry.
The demise of the Australian car manufacturing industry has been predicted for decades. Hastened by the reduction in the tariff barrier (the car industry used to be incredibly protected), that prediction is gradually coming true. And if you think that's an overstatement, it can be watered-down a little to say that the end of locally designed cars is very near.
And I think that much of the blame for the crumbling of the industry can be laid at the doorstep of the industry itself. And specifically, the product planners. You'd really have to think that those who decide the local production and development direction at Holden, Ford and Mitsubishi have never heard of global warming, don't have any feeling for the mood swing of the public towards environmental conservation, and believe that petrol will stay cheap forever. The writing's been on the wall for years but they haven't seen it.
No one can deny that these companies have completely lacked innovation, bravery and vision. They have been the epitome of "me too" product planning.
The Mitsubishi 380 is a good example. As I wrote as soon as it was released (so this is no retrospective wise-after-the-event analysis), the Mitsubishi had (and has) no persuasive case for purchase.  In the family car and fleet markets at which it is aimed, it doesn't provide anything better than the opposition. A basic tenet of business success – having a key competitive advantage – is missing. An obvious avenue to have pursued – and one that built on the huge success of the original Magna – would have been to release a car with a clear fuel economy advantage. A turbo diesel or even a low-pressure turbo four cylinder petrol engine.
The VE Commodore is a car that seems to have been designed and built in a complete vacuum of reality. It's huge, heavy, powerful, thirsty – and irrelevant to most Australians. Compare that with some cars in Holden's history that fitted Australian requirements like a hand in a glove – the original 48-215 being of course the classic example.
The scoop pics of the next Falcon show a car that looks to be in exactly the same mould as the VE Commodore. It's using carry-over mechanicals and so we can expect it to be again very powerful and very thirsty. At least it will probably still have a dedicated LPG option. No wonder there's not the budget to invest in a new locally built engine – the sales predictions for the Falcon must be dismal indeed.
And Toyota? The Camry – despite not being much more economical than the Aurion – has at least got only four cylinders… something of significant psychological benefit for many purchasers. But the real sting is that the Camry is available in some markets as a hybrid. If petrol prices skyrocket, or public opinion accelerates in a massive switch to being carbon-aware (something that would immediately happen if catastrophic climate change weather events became common), Toyota could change to local hybrid production in what in car production terms would be an overnight move.
I've seen local manufacturers state that they need to make large cars to survive, that the profit margins on smaller cars are not there. But that is a self-perpetuating truism, the corollary of which that the bigger you make a car, the better. People haven't got hugely taller or hugely fatter, and family sizes are way smaller than they were in the 1970s and 1980s, yet the cars being produced locally are much larger than ever before. The increase in size has nothing fundamentally customer-driven to support it; it's just more of the "me too-ism" at work.
I think part of the problem is the self-congratulation that the local companies specialise in. There is never, not even in industry organisations like the Australian branch of the Society of Automotive Engineers, an air of urgency, of crisis, a recognition that they're working in a failing business. Instead, they're more likely to be giving each other design awards at black-tie functions.
The local manufacturers – especially Holden and Ford – need to show with locally developed product in the showroom that they can produce cars that appeal to more than Ford/Holden performance car enthusiasts, that they not only understand but also actively embrace the significant social change that is now occurring. Otherwise the Australian car will continue down the road to anachronistic irrelevance – it's already on that path and accelerating as fast as its powerful and thirsty engine can take it….