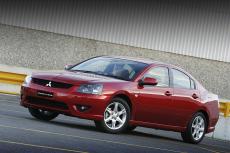 So Mitsubishi's Adelaide car manufacturing plant is to close. The Mitsubishi 380, the large sedan released in 2005, has proved to be a flop.
Now, and over the next few months, there will be a prolonged post mortem, analysing the reasons why the car failed. Already, I've seen statements excusing Mitsubishi Motors Australia from culpability for its failure.
But to anyone not wearing rose-coloured glasses, manufacturing by Mitsubishi in Adelaide has been doomed since the very day of the 380's release. The company – perhaps driven by their masters in Japan – made the atrocious decision to build and release a car that had no market.
And this is not a retrospective, wise after the event, summary.
In an opinion piece written days after driving the 380 for the first time, and within months of the car's release, I wrote:
And the Mitsubishi 380? Unlike the very first 2.6-litre Magna, which offered a contemporary breakthrough combination of space and fuel economy, or the later V6 Magnas which had more sophisticated suspension and far better NVH than other local offerings, the 380 has nothing new. Literally, the entire mechanical package – engine, body and suspension – could have been offered five years ago… (Unarguably, the only technological aspects of the car which are right up to the minute are the Bosch engine management system and Bosch ABS.)
The interior design? Well, that could have been offered not 5 years ago but instead 15 years ago. Oh sure, Mitsubishi wouldn't have been serving up an in-dash MP3 stacker in 1991, but in instrumentation, space, style and comfort, the 380 breaks no new ground. In fact, in some specifics like steering that isn't adjustable for reach, a rear seat that doesn't fold, rear vents that can't be switched off, and a tiny boot opening, a 10 year old Falcon is superior. The 380 has no huge breakthroughs – in performance, in NVH, in fuel economy, in anything.
In fact, as an alleged new-age family car, it has nothing much new to offer.
Yes, the 380 handles very well – or at least the LS we had with optional sports suspension does. But when can you exploit that? In the first day of driving the 380 around the city, I deemed the handling unremarkable. All right, it certainly wasn't lousy, and the traction control worked very well in cornering hard in urban conditions, but so what? It was only on the darkest and dirtiest of back roads (in one case, literally darkest – the car has great headlights), being driven in a way that would immediately result in the driver losing his license if sighted by a policeman, that the 380 showed the depth of its chassis design and development. Fantastic brakes – 160 km/h to nought, time after time – and handling that is precise yet forgiving, the car feeling absolutely planted even in tricky conditions.
And the engine! Especially in the context of its near ancient mechanical specs (Mitsi like to call it all-new but in the basics it's anything but), the engine performs very well. Even with the 5-speed auto of the test car, the 380 is a strong, willing and effective workhorse. But of course, with Falcon or Commodore performance and basically Commodore or Falcon weight, you get just what you'd expect – Falcon or Commodore fuel economy. (To do better you need an engine with real technology – the Honda Accord V6 is a great example. Similar performance but fuel economy – especially on a trip – which is far superior to the 380.)
And the 380's targeted buyer? Try to imagine this person:
Someone who loves driving very fast, in fact often at speeds illegal anywhere in Australia but the Northern Territory. Someone who doesn't care if a car is front or rear-wheel drive. Someone who needs a largish car with lots of rear space. Someone who isn't much concerned by fuel economy and wants strong performance. Someone without any existing tribal loyalty to Ford or Holden. Someone who is undaunted by the demonstrable appalling resale of the 380's predecessor.
I guess that someone exists, but by golly, there can't be many of them…
Mitsubishi see their 380 as a breakthrough car for family and fleet buyers in Australia, a car that will cement the currently precarious foundations underpinning the manufacturing plant in Adelaide.
I think they're fooling themselves.
And I wrote the 'fooling themselves' line with care: I thought then and think now that the company genuinely convinced themselves that they were onto to something special when it was obvious they weren't. One reason I think that is the tone and nature of the original press release that accompanied the 380's release: material that points very clearly to the company's internal thoughts.
Here are some extracts, firstly the tortuous effort to claim that the 380 was in fact a genuine Falcon/Commodore competitor:
"Australians expect a car to be big, powerful, stylish and value for money," Mitsubishi's Manager of Market and Product Strategy, Derek McIlroy, said.
"There isn't any doubt that the new PS41 [later to be called the 380] is a sporty, stylish car, and consumers in our clinics agree. And, last month we released details of the new, large 3.8 litre engine that proves the car has the power to match it with the big boys.
"Now we are able to say that by any measure PS41 has the interior size to satisfy the demands of Australian motorists. There are two benefits to size – (1) is that you have got it, and (2) is that you use it wisely. There isn't any doubt that PS41 is the most space efficient package in the medium-large car segment," Mr McIlroy said.
An international engineering standard shows that PS41 has more leg room than either Commodore or Falcon (1457mm compared with 1439mm and 1430mm respectively) and is competitive with both cars on headroom and shoulder room. The new car has taken a distinct step up from the existing Magna, and is a legitimate contender in the large car segment.
"We are not saying this is the largest car in the segment, but we are saying that its interior dimensions mean it can now legitimately be considered a large car. A consumer clinic last year showed that it was overwhelmingly (nearly 75%) considered to be the "Just right" size by a wide cross section of Medium and Large car segment buyers., " Mr McIlroy said.
So it's clear that Mitsubishi was gunning for Falcon and Commodore conquest sales. Now anyone in Australia – even a school kid web discussion contributor – would have immediately realised that was a huge ask; that with front-wheel drive and with the loyalty that Holden and Ford buyers have to their respective marques, to achieve that outcome the 380 was going to require major and demonstrable advantages over Commodore and Falcon.
Basic advantages, like fuel economy.
Or price.
Or resale.
Or performance.
Or all-wheel drive
Or a turbo diesel engine.
And of course it had advantages in none of those areas (later they dropped the price…)
So where exactly did Mitsubishi see the 380 fitting in? The official "brand positioning statement" was this:
"A car for urban professionals who are looking for a sense of style and difference in a motor vehicle. A vehicle that breaks the mould of Australian derived vehicles and offers a unique blend of distinctive Euro inspired styling, with refinement and the heritage of rally bred technology and durability."
Truly. That's what they wrote. That's also – I can only assume – what they believed.
I could go on – the press pack released with the 380 is full of stuff that was just crazy. In fact, here's another extract:
A result of the most exhaustive research ever undertaken by MMAL, the 380 has been designed with two clear goals in mind – to be the best quality car ever built in Australia, and to redefine large car agility by designing a car for Australians.
Yes, that's what they said: redefine large car agility. WTF?
At the time I read all of this rubbish, drove the car, then interviewed Mitsubishi's (then) chief engineer.
In that interview, I asked him the simple question: "Why would anyone buy this car?"
Lee Kernich, an engineer to his bootstraps, simply couldn't regurgitate the spin. Instead, he stared at me wordlessly, a glazed and blank expression on his face.
And that said it all.