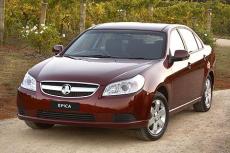 As we all know, successive models of the one car tend to get larger.
A Corolla is now bigger than the original Crown; the new-age Mini is vastly bigger than the original; the current VE Commodore is very much larger than the first VB model.
Bigger is apparently better, until the size has grown so much that there's a created place for a new, smaller model – like in the Corolla's case, the Echo and then the Yaris. (Or in the Honda Civic's case, the Jazz – there are many examples of the phenomenon.)
But the Holden Commodore has proved rather problematic. The newer, smaller models designed to slot in where the Commodore once was have not been very successful – the Vectra being the expensive case in point. So now we have the much cheaper Epica, which in terms of cars like the original sized VB-VL model Commodores, is actually large indeed. (But despite its size, it's still smaller than the current VE Commodore…)
So what does it take for a long-time Commodore owner to finally jump ship? You know, the older person who has driven Commodore models continuously since their 1978 release? (For Commodores and Falcons, it wouldn't surprise me if people in the 'have-always-driven-them' category make up half of the current private buyers.)
Do these people just religiously follow the upgrading in size, the upgrading in power, and the upgrading in weight? Or at some point, perhaps now with children having left the nest, do they say to themselves that the new iteration of the model simply doesn't suit, and it's time to get a car that isn't smaller than their current model – it just isn't yet again bigger. To step out of a VZ Commodore, not into a VE but into an Epica, for example.
Of course when considering an Epica versus a Commodore, the enthusiasts will immediately point to front-wheel drive versus rear-wheel drive, to the Korean manufacturing source versus the Australian source, to power and torque – and to lots of other things. But, simply, for most buyers, none of that matters much. Put these people into a car and they'd be very hard pushed to work out which end was driving, and as for identifying manufacturing origin, forget it.
These musings are prompted by two things.
Firstly, I know a man, hale and hearty in his seventies, who has driven Commodores for as long as they've existed, changing them over usually every second model cycle. He simply has no need for a large car like a VE; he might have the car full to the brim perhaps only once in the whole time he owns it. He is also certainly no performance driver: like many older drivers of Falcons and Holdens, he drives with a throttle stab off the line but once moving, he'd rarely use more than few percent of the available horsepower. His driving would probably be completely satisfied with a torquey 100kW in a 1500kg car. He'd certainly never need large brakes to pull the car down to a standstill from high speed time after time, or to have body control and tyre grip allowing the car to be tossed through corners.
And just last week he bought a VE Commodore, complete with 18-inch rims and huge low profile tyres. He didn't specify the wheels and tyres: they were part of a factory upgrade package already on the car when he bought it off the floor. The trade-in was his immaculate VY Commodore.
And the second thing that's prompted these musings? This week I have a Holden Epica 2.5-litre six cylinder on test, a press car supplied by Holden. It's a model that the new VE owner inquired about at the Holden dealer, only to be told that they're rubbish and he'd be much better off in a new Commodore.
Anyone with the money can buy whatever car they like: it's a free country. But I'd think that the Epica would suit our VE buyer's needs and desires much better than the car he bought. It would have plenty of room for him (he's tall and likes to stretch out), it's refined and quiet, and in fact it's rather more competent than the price might suggest. It hasn't got quite the off-the-line grunt he's used to, but by the same token, it's still got plenty. The CDX version I am driving doesn't have a trip computer, but then again the new VE buyer didn't know how to operate the trip computer in his VY….
The changeover would also have cost him a lot less (like, enough difference to fund an overseas trip…), the fuel economy of the Epica would have saved him money long-term, and he'd more easily have fitted the Epica  in the tight spaces he frequently has to negotiate.
He drove the press car Epica for a very short while the other day. And did he then pour scorn on it, saying that he was so glad that he'd bought that king of cars, the Commodore? In fact he didn't. Instead he was angry at the Holden dealer that had sold him into a much more expensive car, one with tyres each having a replacement cost approximately three times his off-the-cuff estimate. At minimum he should at least have taken the Epica on a long test drive. But it's not the dealer's fault – I am sure our buyer wasn't at all hard to persuade that his destiny lay in another Commodore.
In fact, I think our VE Commodore buyer will be quite happy with his seventh or eighth Commodore.
But I'll think that maybe next car changeover, he might step back a little and look at what the Commodore has become, and how it fits his needs, rather than blindly following the badge. He hasn't jumped ship, but he's finding the location of the life boat…