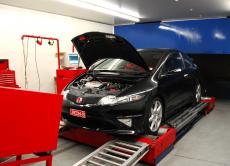 Today I returned Honda's Type R Civic to the Queensland office. I am quite happy to see it go: I think the Civic Type R is a pretty weak car – something I make clear in our road test that will appear in AutoSpeed in due course.
With a 2 litre naturally aspirated engine that revs to 8000 rpm and develops 148kW, it might look the goods on paper – but the reality is very different.
To go further, I think the idea that small, naturally aspirated engines can compete with turbo cars is the stuff of fairytales.
The Peugeot 206 GTi 180  and Ford Focus ST170 were similar cars in concept to the Type R Honda – all based around the idea that naturally aspirated, high revving engines have some intrinsic advantage over their forced induction competitors. That's a purported advantage over turbo competitors that have more peak power – and vastly more average power through the rev range.
In these torque-less, high-revving naturally aspirated engines, you put your foot down and in relative terms, nothing happens. Revs wind up and up, and as they do, the acceleration finally starts to build. In turbo cars – like the Focus XR5 and the Mazda 3 MPS – you tromp it at anything over 2000 rpm and the cars immediately go hard. And then continue to go hard right 'til the redline.
But if you accelerate from (say) 1500 rpm, the response will initially be leisurely followed by a sudden increase in acceleration as the car comes up on boost.
The torque curve of a naturally aspirated engine is flatter: that is, there isn't the rush of torque when a turbo comes on boost. Fans of small naturally aspirated engines will say that the flat torque curve allows better throttle control. That a certain movement of the throttle will give the same increase in torque at the wheels, irrespective of whether the revs are at 2000 or 4000 rpm.  That when you're cornering on slippery surfaces, feeding-in power and feeling the front-end just starting to walk, the last thing you want is a sudden rush of power.
And if the naturally aspirated engines being fitted to these cars were large enough, or, to put it more accurately, had a sufficiently high ratio of torque to the car's weight, this argument would be great. You could have decent acceleration from low revs and have excellent throttle control. This Eunos 30X was fitted with a 2.5 litre V6 and had excellent acceleration and throttle control. Going back even further, this V6 Laser was a similarly fantastic car to drive.
But these were six cylinder engines that, given the vehicles' masses, were relatively large. The Type R Honda has only a 2 litre naturally aspirated, four cylinder engine powering 1345kg. And no amount of technical wizardry in cam timing and lightweight internals and a high redline can sufficiently compensate for the lack of torque.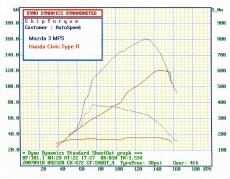 And if you don't believe me, take a look at this dyno graph (click on it to enlarge). It shows the power and torque outputs of the Type R Civic, as recorded on ChipTorque's chassis dyno. Peak output of the Type R is a creditable 121kW at the wheels – and look at how flat that torque curve is! But hold on, what are the blue lines? They're the outputs for a standard Mazda 3 MPS  – that's the one with the 2.3 litre, direct injected, turbo and intercooled engine.
Not only does the Mazda have 32 per cent more power, on the dyno it has more than double the torque (the factory flywheel figures show it has having a little less than double). The result of that massive difference in torque is reflected in the shape of the power curves – at 80 km/h in fourth gear in the Honda you have 62kW available at the wheels. In the Mazda you've got 115kW available!
So while the Honda driver is revelling in his/her throttle control, the Mazda driver is so far ahead that the Honda can't even be seen in the rear vision mirror…
Finally, the argument that a naturally aspirated engine will always have better throttle control than a turbo engine doesn't even now have to hold true. With properly mapped electronic throttle control that incorporates accurate torque modelling, there's no reason why a turbo engine can't have extremely good throttle control.
The Civic Type R's engine in my 850kg Honda Insight? Hell, now that would be some car…
Footnote: the Type R dyno run was courtesy of ChipTorque.