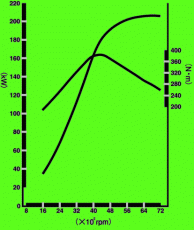 The (repeated) articles that we've recently run in AutoSpeed on power and torque are vital to understanding how to make your car go harder.
(The series can be found at Power vs Torque Part 1 –  and Power vs Torque Part 2)
And why is this understanding vital? Simply because people who use the terms 'power' and 'torque' often don't seem to really understand what the words mean. The vital point to realise is that engine power is worked out by multiplying torque by revs.  And that's the only way that power is worked out!
So an increase in torque at – say – 2500 rpm will mean a proportional increase in power also occurs at 2500 revs. It's therefore just plain stupid to say "there wasn't any change in the power curve but we got an increase in mid-range torque…" as some manufacturers of performance equipment state.
In a given engine, torque depends entirely on how hard the controlled explosion of combustion pushes down on the piston. More pressure from the explosion will result in more torque. So if you fit a turbo which jams into the engine more fuel and air, the resulting explosion will be bigger, and so at those engine revs more torque will be produced.
And if you can keep those cylinder pressures high as the engine revs increase (that is, maintain a flat torque curve), then there will also be more peak power produced.
And, contrary to popular opinion, it's power not torque which gets a car performing. Why? – because you can always increase the torque getting to the driving wheels by selecting a lower diff or gear ratio, but you can't increase the power that way….
An engine with a flat torque curve that revs hard generates a huge amount of power, all because the torque at high revs is also high. A poorly breathing engine drops torque quickly as revs increase, and so to have a high power figure, it needs to generate mountainous low rpm torque.
The key point to remember is that you want good cylinder filling (breathing) to give a high torque figure, and you want it to happen all the way through the rev range so that the power figures are also high.
However, for a road car, that explanation isn't the full story. Because for ninety per cent of the time you're doddering around at low revs, a car that has a low torque output but which maintains it at high revs (and so has high power), will feel much more lethargic than a car with high torque at low revs – but which drops that torque curve away quickly to produce, in the final analysis, lower peak power.
While I was once very much of the school that states that a flat, low, torque curve that extends to high revs is the way to go, I'd now be much less dogmatic. Instead, I'd say that a small engine with forced aspiration (eg a turbo tuned for low rpm boost, or a positive displacement supercharger), or a small engine with electric motor assistance (ie a hybrid), probably gives the best road car outcome.