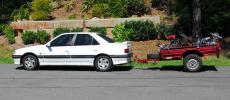 Most cars that I have owned have had tow-bars – if they're not on the car when I buy them, I have them fitted.
So the EF Falcon and Lexus LS400 both had towbars. And, as you'd expect with those cars' mass and power, both towed very well. On one occasion the Lexus towed a camper trailer, and it very often towed my 6×4 steel trailer. The Falcon towed the 6×4 and once a car-carrying trailer (loaded with a large work bench frame).
So when both of those cars had gone to new owners and I bought the Peugeot 405 diesel, I was pleased to see it had a towbar.
I didn't – and don't – expect to be towing big trailers; instead, my 6×4 will be the one usually hung on the back. Trips to the local tip, trips to pick up furniture, carrying around recumbent trikes – things like that.
But as a tow-car, the low-powered and light Peugeot is a very different kettle of fish to the Lexus and Falcon. For starters, the lack of ultra-low rpm torque (when the 1.9 litre diesel is yet to come on boost) makes it very hard to climb my very steep driveway with the trailer on the back. In fact, to do this, I need to thoroughly warm the engine and launch with a lunge at the slope. 
Once on boost, the mass of the trailer doesn't cause much of a problem; performance is clearly down but with decent driving, it's no drama.
But one aspect of the Peugeot as a tow car amazes me. And what's that?
The fuel consumption!
The presence of the trailer makes a radical difference to have much diesel the Pug drinks. Even with the trailer empty, consumption is up by 20 – 30 per cent. One reason for this is that the trailer adds about 25 per cent to the mass; another reason is that the trailer is much less hidden in the aerodynamic wake of the smaller car.
Clearly the idea that towing a trailer increases fuel consumption is not something new.
However, as more people drive cars like hybrids (incidentally, no Prius is factory certified for a tow bar) and smaller engine diesels, trailers designed with more than utilitarian cheapness may become attractive. A smaller, light-weight and aero-shaped trailer would, I'm sure, make far less difference to the Peugeot's towing fuel consumption…