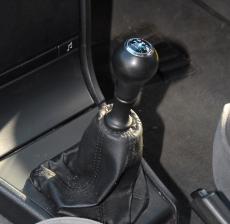 We've all heard of short-shifters, where the throw of the gear lever is reduced. Short-shifters are available aftermarket for many cars and some performance models of mainstream cars use a shorter gear throw.
Generally a short-shifter moves the fulcrum point so that less movement is required of the gear-knob to achieve the necessary movement of the selector forks. Some short-shifters provide a movement so abbreviated that the gear lever feels more like a light switch.
However, in any gearbox, a shorter throw will require more effort – that is, the gear shift will be heavier.
Most enthusiasts agree that a shorter gear throw is attractive, purportedly because quicker shifts can be made. But in the real world, I doubt that's actually the attraction. Instead, it's probably because it makes the car feel more responsive and quicker – snick, snick, snick the gear lever on the way up and down the 'box.
I once had a Rover 2000, a very British car with a large steering wheel, low-power 2 litre 4-cylinder – and about the quickest factory shifter you're ever likely to come across! The movement of the very short gear lever movement was completely at odds with the feel of the rest of the controls.
These thoughts all became relevant yesterday when I went off to the wreckers to find a new gear knob for my Peugeot 405 SRDT. The original was cracked and tired and wrecker replacements are so cheap that the upgrade was well worth it. And $5 later, I had a nice, heavy, ex late model Kia gear knob that had the right shift pattern shown on top. The thread wasn't a match for the odd, vertically splined (except they're much too crude to be called splines!) Pug gear lever, but I figured I could adapt it.
At the wreckers I'd taken off the Pug gear knob, only to have it come to pieces in my hands. So on the trip home, I simply bunged the new gear knob on top of the shaft, so extending it by about 50mm.  And you know what? The slower, lighter gear shift that resulted actually felt pretty good! But I was sure that I was confused – how could a slower shift be better? – and left the gear knob in this position for a few days. I also got my wife to drive the car.
And we both agreed that the lighter, longer travel gear shift felt better than standard.
So, instead of shortening the gear lever and putting the new knob closer to the floor – so resulting in a poor man's short shift – I went the other way…. installing a "long shift"!
Selecting second gear on a down-change is easier and on the up-changes, the synchro seems to like the slower shift. The gear-box, a design with a pretty horrible standard shift quality, is simply much improved….