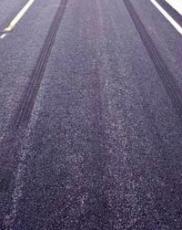 Having the throttle jam fully open is a pretty exciting idea. And an even more exciting reality.
I've had the throttle jam fully open twice in my driving career.  Once it was in city traffic, in second gear.  I'd just had the throttle body-to-plenum rubber hose off, and when I'd replaced it I hadn't orientated the hose clamps the right way around.  The result was that when the throttle lever moved past the clamp screw it couldn't get back: instant sustained Wide Open Throttle. 
After thinking "Shit!" I turned off the ignition key and then swapped lanes to the curb.
The second time was more dramatic.  At a balls-to-the-wall 180 km/h in my tiny 660cc turbo Daihatsu Mira, I lifted off, but the car kept going hard.  Standing on the brakes worked well, and then I switched off the ignition.  Bit nasty, though – switching off a turbo car at full throttle….  That time the water/air intercooler had blown off its mounts, in the process jamming the throttle.
I've also been the passenger in a car when the throttle stuck. We were on a back road, doing 0-100 km/h performance times, when the driver suddenly exclaimed in consternation. Before I could ask the question, the car was bouncing off its rev limiter and I guessed the cause.
When it happens, it happens quickly.  Best is to stand on the brakes and then switch off the ignition – but only to the extent that kills the engine.  Other approaches include knocking the gear lever into neutral and then hitting the key, or even – in desperation – yanking on the handbrake as well. 
Once I lived in a house facing the upcoming axis of a T-intersection. When we looked at buying the house, my then girlfriend (and now wife) said: "What if someone loses their brakes? They'd come roaring straight into the house." I looked at the situation, saw the steep embankment they'd have to cross to reach the house and scoffed at the idea.
So we bought the house.
When the bloke drove his Falcon two-door up the gutter, across the footpath, through some hefty bushes, up the two metre rise, through my veranda post, and then finally into the front wall of my house, I was a bit taken aback. Especially since he only carried out only the first step in the throttle-jammed scenario – standing on the brakes.  The skid marks left by the front wheels were more than 30 metres long….
But the best cure is prevention – whenever you've been working on anything around the throttle, before you shut the bonnet it pays take a step back and look at the situation. Is there anything that could jam the butterfly open?
It's a pretty vital question for anyone working on cars…