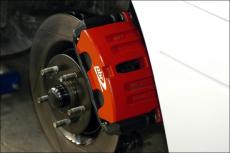 When you were taught to drive I'd wager 10:1 that no-one ever said anything about left-foot braking. The left foot was for the clutch, or in an auto car, for bracing yourself when cornering. (The driving instructor never said anything about that either? Oh well.)
I first started left-foot braking about 15 years ago. After reading a story on RWD handling that described left-foot braking, I decided to have a go. The first thing that I found was that after years of accelerator operation, my right foot had developed a super sensitivity – but my left foot was used to only operating the clutch. Left foot braking therefore resulted in a crick in the neck, until I learnt some sensitivity with that foot as well!
The worth was proved when I found myself pedalling a loan car, one that handled like it was shod with 75 series rubber pumped up to 20 psi.  The auto car had chronic understeer, but – much to my surprise – I found that it could be largely cancelled-out with a dab or two of left foot braking.
It seemed to work best around large roundabouts. Going in hard, tyre squeal and then understeer would start to intrude. Not backing off the throttle at all, I'd dab my left foot on the brake, which would then cause an immediate tuck-in out of all proportion to the slowing in speed.  If it again started to understeer too much you'd just keep on dabbing…  It improved the handling sufficiently that I was impressed.
Back in my own constant four wheel drive car, I tried the same technique, but not so happily.  Firstly, I had to go so bloody fast to make the car, wearing sticky rubber, understeer by the same degree, and, secondly, the reduction in understeer wasn't nearly as pronounced.  In the wet, you also had to be super-gentle – otherwise the transition to oversteer was quite abrupt!
However, these days I tend not to use left-foot braking for handling reasons. Instead, when driving any auto trans car, I use my left foot for all braking requirements. Why? Well, simply because I can be so much faster on the brakes. In any situation where braking might be required (a child playing by the side of the road; a car that looks like it doesn't want to give way), I can poise my left foot over the brake pedal, ready to mash it down hard.
I only realised how much I had adapted to left-foot-braking-in-autos when I drove a people mover that had a steering column positioned so that left foot braking was impossible: braking with my right foot felt downright awkward!
If you've never given your left foot a chance at braking, give it a go. You might be surprised at the advantage it can give you.