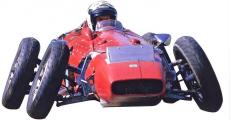 I'd no sooner finished writing A Disappearing Suspension Technology than I came across something that goes a long way to explaining the reason that swing-arm suspension was used by such hugely respected engineers like Porsche and by companies like Mercedes.
The magazine article is on a very interesting car produced by one of the all-time greats in suspension theory. The designer of the car was Bill Milliken and the premise was that by using narrow tyres running a huge amount of negative camber, very good cornering grip would be able to be obtained.
Now there's a lot more to his car than just that (by clicking on the magnifying glass you can enlarge the article scans enough to print/read them) but the narrow tyres/huge neg camber is a very short summary.
The tyres being used by Auto Union and Mercedes pre-WWII race cars were similar in width to current big motorcycle tyres and so would have been far less susceptible to loss of grip through lifting of the flat tread of the tyre that would otherwise occur through negative camber. In fact, the lateral thrust from the camber achieved by the swing-arms would, as the Milliken car shows, have made a major contribution to cornering grip.
It makes me think that a lightweight car running low pivot point swing-arm (or semi-trailing or leading) suspension and motorcycle tyres could develop a lot of grip while maintaining an ultra lightweight suspension, in turn giving a very low unsprung weight and low total vehicle mass. And the narrow wheels and tyres would also give far lower rotating inertia, improving acceleration and braking still further…