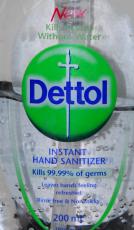 Those of us who are not full-time workers on cars, but instead are enthusiasts who don't get their hands dirty on a daily basis, are most likely to benefit from this product.
So what is it? It's an antiseptic liquid that you dispense from a pump-pack and then wipe over your hands. The stuff dries quickly and doesn't leave a sticky residue.
I find it particularly effective when I cut my hands (looking now I can count six minor cuts, three of which are open) as very often heavy duty hand cleaners have the unfortunate side-effect of infecting cuts.
So you're working on brakes or an engine or bodywork and, at the time you inflict a minor cut on yourself, your hands are filthy. If the cut or abrasion is of little consequence, you leave it and then later clean your hands with a heavy duty soap or dedicated hand cleaner.
And if that's all you do, it's likely the open wounds will get infected.
But if after cleaning your hands, you give them a wipe-over with Dettol Instant Hand Sanitizer, the later infection is avoided.
There may well be other products that work in the same way – it's just that I haven't come across them. For minor cuts and abrasions it's much better than the antiseptic cream you might apply to a more serious wound – you can quickly and easily spread the sanitizer over both hands by just squeezing some of the liquid onto a palm and then rubbing your hands together. It doesn't need to be wiped off – it then evaporates.
The product costs $5 or $6 and it's available at supermarkets.  Note that it's highly inflammable, so use it on your hands only after you've left the workshop…
(And no the sample wasn't a freebie – I bought it just like anyone else.)