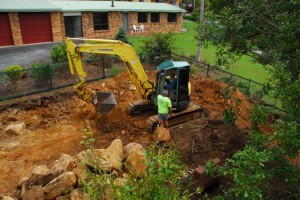 Today it's been rather hard to concentrate on work.
Instead of the sounds of birds, my home office has been filled with the noise of an excavator working in the front garden. The roar of the diesel; the grinding of its scoop teeth on rocks; the clatter as the driver changes buckets.
After living in this house for about eight years, I am finally having a decent workshop built. The shed is going to be (I hope) 14 metres x 6 metres, a huge area of floor space for my pan-brake, lathe, mill, bandsaw, oxy acetylene – and all the rest of the gear.
That equipment currently resides in the space under my (elevated) house – but that area is not weatherproof and has low ceiling clearance. It's also not anywhere near 84 square metres in size…
The excavator is smoothing and levelling, creating the pad for the shed. It might be in the front yard but the unusual shape of the block actually tucks it into a space scarcely visible from the road, and on an area of land we seldom – if ever – used. The block is steeply sloped so quite a lot of earthmoving work is needed: today another level was scooped out for a shed rainwater tank, a rock retaining wall was built, and an area was built up and compacted.
Last week the work began; tomorrow I am told that 16 metres of rock retaining wall will be built.
This evening I have for the first time been able to walk around the level and firm surface, looking at the space and thinking of what it will be like to have sufficient room for a decently equipped wood and metal working workshop – and to have plenty of room for a car or two in there as well.
Like, there will be enough space to take on a major car restoration project – or even build a car from scratch. Both are of more than passing interest to me.
In preparation for the new workshop, I've already started to pick up bargains. In the office in which I am now working I am accompanied by 15 high pressure discharge lights; somewhere else in this room is a box of new eBay powerpoints and light switches.
I've also been buying mechanical equipment – stuff that at the moment I don't even have the room to install, let alone use. So there's the new (second-hand) metal shears, the new (again second-hand) power electric hacksaw, and the eBay lot of Dexion angle I bought the other day to form part of the shelving.
Soon, perhaps when I have final council approval, I might start steering scale cut-outs around a paper plan, working out the best positions for the machinery, shelves and workbenches…