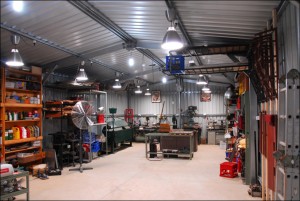 Our 'Building a Home Workshop' series (starts here) has been very popular. So what's the workshop like after being in use for 9 months? What's been learned about its performance in that time?
Firstly, the excellent.
The lighting system (an expensive and very powerful system using a lot of suspended metal halide luminaries) is well worth the time and money involved in its installation. You can be working in the late afternoon and as evening falls, not even notice the change in lighting. You can work as efficiently in the middle of the night as the middle of the day.
The internal layout – the position of power points, machine tools and workbenches – has also proved excellent. The 'island' workbench is particularly effective, as is the proximity of the welding bench to the main workbench. 
The tall headroom is also noticeable every time I swing a piece of tube or even carry the ladder. Talking about the ladder, the storage of items high up (clearing floor space) has also proved to work very well.
Now, the bad.
I chose to install two skylight panels on the north-facing part of the roof, down the end of the workshop furthest from the roller doors. These work well in that the summer heat build-up caused by their presence is limited but they still provide a lot of light. However, I should have used one more panel so that the back wall of the workshop (where the machine tools are located) was evenly illuminated. As it is now, on a cloudy day, the drill press, grinder and hydraulic press are a bit dim.
Ventilation is also not sufficient. Even with the two roller doors up, the twin whirligig ventilators working and a fan moving air within the workshop, the build-up of fumes while brazing or welding is excessive. This is one aspect I think I will have to change – either adding an extraction hood and exhaust fan over the welding bench or placing an opening window in the far wall.
Finally, the concrete floor has proved to be very soft, not just in the second batch (which I always knew was soft) but also in the first batch. To avoid damaging the floor, items cannot be dragged across it and nothing can be hammered on it.
Overall? Very happy indeed.