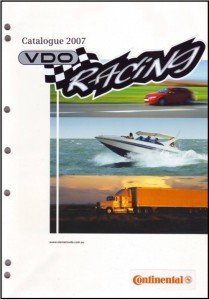 Back when I owned my first car, about 25 years ago, I just adored the VDO gauge catalog.
Not knowing much about cars, I was terrified of touching the engine's carby, or the suspension, or the brakes – or anything much at all. But I knew I could install extra instruments without wrecking the car, so plenty of new gauges found their way into the cabin.
In that first car, an air-cooled 2-cylinder, I installed a VDO oil temperature gauge, one with the sensor mounted in a new, purpose-designed dipstick. In later cars I fitted VDO cylinder head temperature gauges, exhaust gas temperature gauges, turbo boost gauges, and transmission temperature gauges.
Gauges are good – you learn about the operation of the car, can immediately spot when you're pushing the driveline too hard, and can see problems as they develop.
So the other day, when I was at a show that had the (apparently) latest VDO catalog, I enthusiastically grabbed it. It's actually marked as being the 2007 VDO Racing catalog, but it's the same old format that I looked through so long ago – comprising automotive, commercial vehicles and marine.
But, after reading through it, I bloody well wondered why I bothered picking it up: the 1985 catalog would have done just as well!
If ever I have seen a company that chooses to treat automotive enthusiasts with contempt, it must be VDO. The range of gauges and instruments is stuck in an absolute time warp: we're talking only the most trivial advances in 20 years.
Digital gauges? Apart from a green LED clock that doesn't appear to have advanced one iota since it was first included in the catalog (I haven't checked, but by appearance that would be in the 1970s), you can forget digital gauges. (Oh yes, apart from the odometer in a speedo…)
Smart programmable multi function LCD panels? You're joking.
Gauges running colour-selectable LED lighting? Nope. (Or any LED lighting? Nope….)
Gauges that can read from engine management sensors – or even the OBD port? No – not one. There is literally not a single gauge in the book that reflects the universal application of engine management over the last 20 years…
An air/fuel ratio gauge? Nope.
An injector duty cycle gauge? Nope.
Real time ignition timing, or short- and long-term fuel trims? Nope, nope and nope.
Now you might say that some of these parameters are obscure – but so are exhaust gas and gearbox temps. Long- and short-term fuel trims will tell you about a myriad of problems – if you have a gauge to show them.
VDO certainly provides modern instrument and gauge technology to OE manufacturers – they just chose to make none of it available to us….