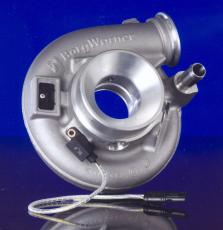 BorgWarner Turbo & Emissions Systems has developed a new turbo speed sensor.
The eddy-current design is mounted on the compressor housing, with the end of the probe flush with the inside of the compressor cover. Designed to measure turbo rotational speeds from about 1000 rpm to 350,000 rpm, the sensor is non-contact and so wear-free.
A smart sensor that takes a 5-volt supply and includes internal electronics, the sensor body can withstand 180 degrees C and the exposed tip up to 250 degrees C. The sensor has a service life of 1.6 million kilometres.
BorgWarner suggest that a primary use of the sensor is in providing over-speed protection but the regulation of turbo speed by a feedback loop is another obvious application. As an input into the engine management system, along with temperature and ambient pressure, turbo speed measurement would allow the turbo to be run much closer to the surge line without danger. Bigger compressors and smaller turbines, allowing better low-down boost, would be the result.
Along with electric assist turbos the future of turbocharging looks bright.