Right now my confidence is at an utterly low ebb.
I have been working on my new recumbent, touring bike design and now, after almost two months of thinking, designing and constructing, have abandoned the project in its current form.
The machine has several strict criteria it must fulfil: it needs to be able to be folded into a package (say) 1 metre x 50 cm x 40 cm; it needs to be able to carry a lot of camping gear; it needs to be stable; and it needs to weigh less than 20kg. Oh yes, and as I have previously indicated, it needs to use a recumbent seat and have a lot of gears.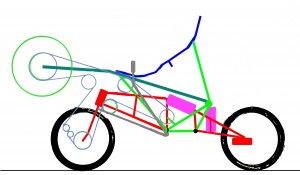 My first on-screen design looked a bit like this. A delta trike, it used (two and then) three air springs, allowing interconnection of the front and rear suspensions. The machine used chain-twisting front-wheel drive and rear wheels that could lean, parallelogram-style. The leaning ability could also be locked out for low speed travel.
But then I realised that the integration of a 'lean lock' with the rear suspension design wouldn't work: when lean was locked-out, the rear suspension would cause the trike to tilt badly when one rear wheel ran over a bump.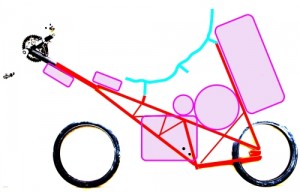 So the interconnected suspensions disappeared – this became the next design (the massive carrying capacity is obvious).
I spent weeks building this machine before I realised that the problems were becoming insurmountable.
What problems then?
Well, firstly the machine has to suit my wife as well as me, and for her the seat height was too great. Yes, she could just get on and off, but not really comfortably.
Then I found the steering very difficult to organise – I could get rid of the bump steer, but only with an overley complex steering linkage.
To accommodate the chain, the front forks needed to be an odd shaped, weaker, design. And, after setting the system up, I wasn't all that happy with the FWD twist-chain approach anyway.
Weight was growing, too – there was no way it would come in under 20kg.
As I came across problems and then adopted fixes, the build was becoming one band-aid after another. As a result, the integration of the design was getting poorer and poorer.
Then the tall centre of gravity height meant that rear track needed to be wider than expected to provide sufficient stability.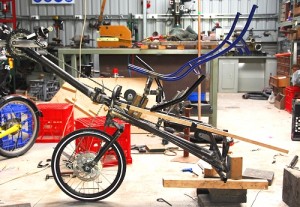 It may be possible to use a 'tilt brake' together with 150mm of suspension travel – but I couldn't work out how to integrate the two ideas. Not while still keeping the suspension working in all situations, and avoiding excessive suspension-induced body roll in 'locked' form.
And finally: the design was simply getting too complex for a machine that has to be reliable and bullet-proof.
Part way through a project, it takes a real mental effort to step back and say: "Nope, this isn't going where I want it to go."
That's partly because that voice inside your head keeps saying: "Failure, failure!"
It's also because you look at the time and money already spent – the design had already consumed something like $500 worth of high tensile 4130 steel tube and sheet. And I hate to think how many hours of thought and construction.
So right now I am thinking afresh. Simple, (relatively) light, easy to build.
Of course it hasn't all been a complete waste of time – I know a lot more about the achievability of certain design criteria, and my skill at brazing has been refreshed.
But still, it certainly knocks the confidence out of you…