As I write this, I am on holidays – something that also won't be the case by the time you actually read this!
In addition to doing four AutoSpeed stories, I've been spending the time cudgelling my brains over my upcoming Human Powered Vehicle project – a front-wheel drive, delta (two rear wheels, one front), recumbent, leaning trike.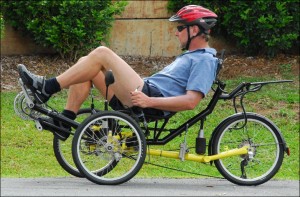 I've looked through the articles I've previously done in AutoSpeed on recumbent pedal trikes (including the tadpole trike pictured above), and have been furiously scanning the web.
Recumbent bikes (where the rider sits back in a reclined seat, the pedals in front of him or her) make up only a tiny minority of bikes worldwide.
Recumbent trikes make up a small minority of that tiny minority – and recumbent, delta, leaning trike designs can be counted on the fingers. Of two hands.
Thus web searches have tended to return to the same sources, taking any one of a number of routes to get there.
As a result of the small number of web pages dealing with this topic, I have had a chance to re-read my posts to an online recumbent bikes/trikes forum, one that has a specific area for homebuilders. Before I was banned, I was almost pleading with those who had developed recumbent trikes to do some testing and measurement of their machines' performance, so that the tiny community of scattered builders around the world could actually compare designs and see which approaches were best.
Seems an obvious request, but it was met with refusal.
And now, when I am designing just such an unusual machine, I feel that frustration all over again – if anyone had bothered to get off their arse and actually do some testing to support their claims, I would now be benefiting. Just as anyone else building such a machine would equally benefit.
Anyone can build anything and make whatever claims they like about it, but without careful testing, their statements are largely meaningless. And I don't even mind if they do the testing themselves – at least there would be some data to go on…
Thinking through the new HPV design, I've come to a few conclusions. They're new to me, although of course not necessarily to lots of other people! So perhaps I'll put them to you simply as points:
– Traditional diamond frame bikes proliferate in racing because in most events, better, faster bike designs are banned.
– As a result of seeing only this type of bike, most people assume that it is the best type of bike.
– Sitting on a tiny seat – one about as big as your hand – is not something anyone would normally do voluntarily, so why do it on a pedal machine?
– People way over-estimate the importance of low weight and speed in a pedal machines. Unless you're racing, surely better comfort and easier riding are more important aims?
– When riding in a comfort completely foreign to 99.999 per cent of bike owners, the required physical effort becomes easy. It's often the case that you get tired on a normal bike because developing the physical effort is uncomfortable, not because of the physical effort per se.
– A recumbent, properly suspended pedal machine reduces the shock of bumps by around 80 per cent, making effectively every surface act like the smoothest concrete you can ride along on a traditional diamond frame bike. And of course the seat is as big as an armchair…
– People are hungry for sustainable, alternative and comfortable human-powered transport with low running costs. It's technically achievable right now, to a degree that would simply flabbergast most people.
Next time you think of pedal power, stop thinking about upright, diamond-framed bikes. They're inferior in nearly all applications to the machines now able to be built.
Disclaimer: my wife's business, SpeedPedal, sells recumbent trikes.