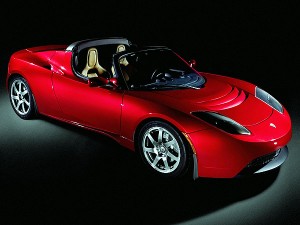 I feel like one of the first pilots of jet-powered aircraft. They immediately knew that they were flying the future: there could be no going back to pistons and propellers.
Today I drove the car that, for me, spells the end of the piston engine for performance cars.
The car was the all-electric Tesla, and its performance – and the way it achieved that performance – was just so extraordinary that I am almost lost for words. That a start-up car company has created such a vehicle is simply unprecedented in the last century of automotive development.
For the Tesla is not just a sports car with incredible performance (0-100 km/h in the fours) but also a car that redefines driveability. Simply, it has the best throttle control of any car I have ever driven.
Trickle around a carpark at 1000 (electric) revs and the car drives like it has a maximum of just a few kilowatts available. It's the pussy cat to end all pussy cats: Grandma could drive it with nary a concern in the world. Put your foot down a little and the car seamlessly accelerates: heavy urban traffic, just perfect.
But select an empty stretch of bitumen and mash your foot to the floor and expletives just stream from your mouth as the car launches forward with an unbelievable, seamless and simply immensely strong thrust.
There are no slipping clutches, no flaring torque converters, no revving engines, no gear-changes – just a swishing vacuum-cleaner-on-steroids noise that sweeps you towards the horizon. The acceleration off the line and up to 100 km/h or so is just mind-boggling – especially as it's accompanied by such undemonstrative effort. The car will do it again and again and again, all with the same phenomenal ease that makes this the winner of any traffic lights grand prix you're ever likely to meet.
And it's not just off the line. Want to quickly swap lanes? Just think about it and it's accomplished. 
In fact drive the car hard and you start assuming that this is the only mode – outright performance. But then enter that carpark, or keep station with other traffic, and you're back to driving an utterly tractable car – in fact, one for whom the word 'tractable' is irrelevant. Combustion engines are tractable or intractable; this car's electric motor controller just apportions its electron flow as required, in an endlessly seamless and subtle variation from zero to full power.
It's not just the acceleration that is revolutionary. The braking – achieved primarily through regen – has the same brilliant throttle mapping, an approach that immediately allows even a newcomer to progressively brake to a near-standstill at exactly the chosen point.
A seamless, elastic and fluid power delivery that no conventional car can come remotely close to matching; a symphony on wheels to be played solely with the right foot; an utterly smooth and progressive performance than can be explosive or docile, urgent or somnambulant – literally, a driveline that completely redefines sports cars.
There's no going back – my driving life is now changed forever.
Footnote: the Tesla drive was courtesy of Simon Hackett of the ISP, Internode.