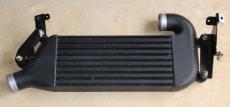 Right now – and probably for the next few years – there's a helluva bargain to be had.
I've bought one to put on the shelf and I highly recommend that anyone else into useable road performance does so too. And what should you buy? At least one of all those BA and BF Ford Falcon XR6 intercoolers that are being flogged-off on Australian eBay, commonly priced from about fifty bucks.
Yes, from fifty bucks.
Now maybe the people who want far in excess of the Falcon's standard 240kW have an urgent need to replace these Garret-cored, bar-and-plate intercoolers with something far better, but for people who are happy to drive a car with performance not limited by wheelspin, these intercoolers look perfect. Being an all-welded design, they'd also be dead-easy to jacket with aluminium sheet, making them water/air intercooler cores. At a core size of 370 x 175 x 60mm, they're relatively compact but have well-shaped alloy end tanks. For people wondering overall size, they're 620 x 270 X 60 cm to the extremities. Inlet/outlet tube size is 58mm (hose ID).
Even if you consider the time and labour to fold up new end tanks from sheet aluminium and pay someone to TIG them to the original core, you're still talking an excellent intercooler for the price.
The one I bought came with all its hoses and clamps – also very useful when you're plumbing any intercooler into place.
Without having done any flow or temperature testing, but looking at the core and assessing the original application, I'd be happy running at least 200kW through them – more, eg 250kW – with a good water spray.