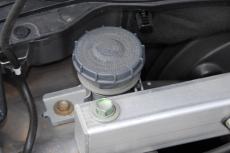 Had a problem with one of my cars yesterday.
My wife, who had been driving the Honda Insight, had previously questioned me about the clutch feel.
"It's awfully light," she said. "And it seems to engage right on the floor."
Dismissing this with a wave of my hand (I figured she'd just been driving the much-heavier-clutch Peugeot diesel too much), I thought no more of it until I got into the Honda and the clutch pedal went straight to the floor. No gear selection was possible, so clearly the clutch was no longer disengaging.
Paradoxically, despite the engine's low absolute torque output, the clutch in the Honda has a hard time. This is because the gearing is so high – to move away from a standstill, the clutch always needs to be slipped. So although it doesn't have a lot of kilometres on it, the clutch is starting to wear, juddering a little if the take-up is not got exactly right.
So when the clutch failed to work at all, I suspected the worse – perhaps the spring fingers had collapsed or something.
But the first step was a careful underbonnet inspection. There I discovered that the clutch uses a hydraulic actuation system – and the reservoir was empty! Hmm. I filled the system with Dot 4 brake fluid (as specified) and then bled it.
And then – what do you know – the clutch worked again!
So where had the fluid gone? There was a slight moistness around the slave cylinder, probably enough of a weep that over time the fluid level could have lowered itself sufficiently to start drawing air.
You see, I'd never – not once – checked the level of fluid in the clutch master cylinder reservoir. Not once.
So if you're as dumb as I am, and your car has a hydraulically-activated clutch, you might need to be reminded to check its fluid level…