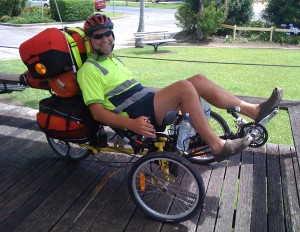 I've just returned from a week on the road.
The vehicle of choice was my recumbent pedal trike, a design that you can read more about here and here. (In the pic above I've just finished my ride, so explaining the wrong shoes.)
I left Gold Coast and went to Tallebudgera, Pottsville, Byron Bay, Lennox Head, Yamba and then Grafton – mostly in northern NSW. Carrying full camping gear, I stayed each night in local caravan parks, spending one night in each except at Yamba where, because of steady rain, I spent two nights.
My last stop was at Grafton, where I got picked up by car and trailer.
Including diversions, I rode about 350 kilometres.
While for 'real' long distance cyclists, such a distance is trivial, this is the longest pedal trip I have ever undertaken. Furthermore, in one day I rode 110 kilometres – again a laughable distance for some cyclists but a PB for me, especially when carrying 30kg of gear.
I found the trip exhilarating and rewarding. I loved being moved by my own power, working with the machine I designed and built.
The hours of pedalling also gave me plenty of time for reflection.
I think a recumbent trike with three-wheel long travel air suspension is the most comfortable way of pedal travel that is possible.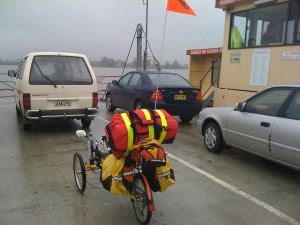 Each day I typically used 75 per cent of the suspension's travel of about 4 inches (this was easy to judge by means of a tell-tale on the rear damper), and no matter what the surface I was riding over, the ride remained absolutely comfortable. No harshness, jerks, vibration.
And with a seat supporting an area of my body many times greater than sitting on a traditional bike seat, I never had a sore bum – or sore shoulders or sore wrists. In fact, even after my longest day, I got off the trike with only slightly sore legs.
I felt tired – certainly.
But it was an overall body tiredness rather than any specific sharp aches or pains.
But the trouble with my trike design is that it is big – and so is expensive to ship anywhere. I have sent my trike interstate but the size of the shipping crate meant the total cost was high. Sending it even further afield would be impossibly expensive – not to mention the problem of storing the crate at the other end.
So as I rode along, I started thinking of alternatives. New designs of pedal machines that would end up being more compact, and so able to be freighted long distances more cheaply. But designs that retained all the best elements of my trike.
So:
• A recumbent seat
• The same pedal axis ("bottom bracket") height
• Air suspension with the same spring and damper rates
• Identical below-seat handlebars
• The same gearing and wheel sizes (81 gears and 20 inch wheels)
• The same anti-squat rear suspension design
And I kept coming back to a long wheelbase (LWB) recumbent bicycle with a removable seat.
The front and rear suspension arms could be designed to fold in towards the centre of the machine, and with the wheels and seat removed, the total shipping package could be potentially far smaller than the trike. The same Firestone rolling-lip air springs could be used, and – with the exception of the need to balance and the different steering – the machine would have exactly the same comfort and 'feel' as the trike.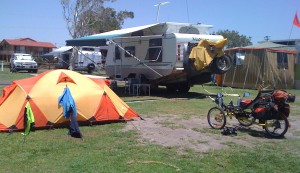 Going to a bicycle design would also allow an additional two major positives – around one-third less frame and wheel mass, and – more obscurely – much reduced torsional forces to be withstood. (The latter is best understood when you think that when cornering, a bike rider shifts the centre of mass so that forces are resolved largely downwards in line with the frame. On a cornering trike, the machine tries to roll so there are torsional forces occurring, a large anti-roll bar is needed, etc.)
The major disadvantage of a bicycle is the need to balance – important at very low speeds at which a recumbent pedal machine can climb hills (no standing on the pedals is possible!). And of course, no sitting back on the seat of a stationary bike, resting as you happily munch on an apple or something.
But that last one could probably be countered by incorporating a really solid stand that supported the bike both sides.
Hmmm.
I've made some preliminary sketches and the machine would certainly be a long one – and so much less wieldy on tight cycle paths and the like. But then again, it would not be designed for that, but instead for long distance touring. My last experience of a recumbent bike wasn't positive, but with this design – as with any you do yourself – I could optimise it for my preferences, so overcoming many of the aspects I disliked about that particular bike.
It would also be good fun – learning about anti-dive two wheeler suspension, the intricacies of 'wheel flop' and trail and castor, and developing an appropriate steering ratio.
I think I'll do it.