As with any recreational pursuit, cyclists come in sorts of shapes, sizes and special interests.
I'm interested in heavy recumbent touring pedal machines; my neighbour – a man in his sixties – likes traditionally shaped ultra-lightweight racing machines.
Each morning his car heads out, bike on the rear rack, to allow him to get in some cycling before work.
He rides with a like-minded group who sprint (well, in my terms it's sprinting!) at 35 km/h or more on the flat roads of the Gold Coast.
Then, a few days ago, he abruptly stopped his morning rides. A broken shoulder blade, multiple abrasions and concussion will tend to do that.
He'd been out with his mates, riding fast to catch up with a breakaway group ahead. He reached the rearmost person and leaned over to pat him on the back. He doesn't know what happened next – perhaps he startled the other rider who swerved, or perhaps at just the moment he took one hand off the handlebars the very narrow front racing tyre fell into a groove in the road.
But whatever the cause, when he regained consciousness he was lying on the road, in pain and with the greatest of desires to get the hell out of there and to safety.
The cycling group helped him, and it wasn't long before he received medical help and then, subsequently, was home.
His injuries are certainly not trivial, but it could have been much worse: he could have been dead.
The short loss of consciousness and the concussion indicate that his head hit the road. So does the state of his helmet….
The helmet is destroyed.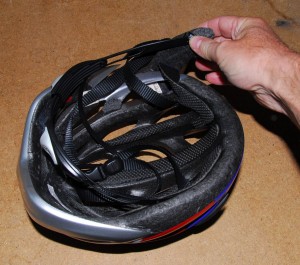 A piece of the foam has broken right away…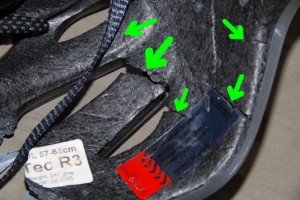 …but what's even more interesting is that the foam is cracked in multiple places. In fact, there's barely an area of the helmet that doesn't have large or small cracks in it.
To look at it makes me feel slightly ill: without a helmet, those cracks would probably be in my neighbour's head.
The helmet did its job in just the way it was designed to.
I look at riders – often young – who don't bother wearing a helmet and think of how utterly stupid they are…