It's been said that the victors write history. It's also the case that history tends to be written in the native language of the country – or company. Perhaps it's for those reasons that good histories of the major Japanese car makers seem so absent – or, when they do appear, are rather lame.
Honda Motor – the Men, the Management, the Machines was written by Tetsuo Sakiya in 1982. When I came across it, the age of the book didn't worry me – surely all the foundations of the company were in place by then – so it was a read I was looking forward to.
However, the promise isn't fulfilled. Basically, it's because the author feels the necessity to wander off into prolonged diversions on Japanese history, culture, labour practices, emancipation of women, trading companies, the role of government – and God knows what else.
Sometimes the points are relevant; most times they're not.
To cut to the chase, what I learnt from this book was that Soichiro Honda was a huge personality as well as being a highly competent engineer. He was not above telling lewd jokes to bankers as he tried to prise money from them; he openly berated company workers and physically threatened them; and his own engineers rebelled when he insisted on continuing with air cooled engines in cars – even when the engineers said that to meet emissions targets, water cooling had to be adopted. The expansion into the US is also interesting, as is the way that cash crises were overcome.
There are enough interesting snippets on the company and its founder to fill a long magazine article – but not a book.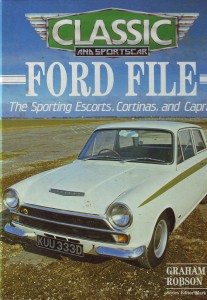 When selecting a classic car, there's a lot to be said in buying a vehicle that, at the time it was produced, probably wasn't regarded as a potential collectable. The car will have been sold in much greater quantities, and is therefore much more likely to have ongoing support and a cheap parts base, even decades after it was made.
A variation on that theme is to buy a model that was based on the common car, but had a different engine or suspension. Some parts will be hard to get but the basic body, trim and other bits will still be readily available.
Which brings us to Ford File – the sporting Escorts, Cortinas and Capris.
Written by Graham Robson in 1987, it's an excellent coverage of the aforementioned cars. From the Lotus Cortina to the Twin Cam Escort and V6 Capris, the book has a wide-ranging coverage of the models produced, what goes wrong with them, and what they're like to drive.
It's also an interesting book from a purely historical perspective – the fact that two completely different V6 engines were produced by Ford, the way in which a small company like Lotus was embraced by Ford for factory-endorsed models, and – in a modern context – the quite dismal performance of what were then high performance machines.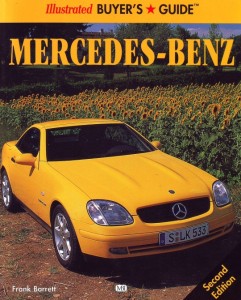 And, talking about classics, what about a car from that most venerable of all car companies – Mercedes Benz? The Illustrated Buyers' Guide – Mercedes Benz was written by Frank Barrett – the edition I have was published in 1998.
I tend to steer away from these sorts of books – they're often put together by journalists moonlighting as book authors, and simply writing down what lots of people tell them. However, the Barrett book is excellent – the author knows his stuff and the book is simply packed with vital information for anyone considering buying an old Mercedes. In fact, 'old' is right – the author goes right back to the very first models!
As someone who has often considered buying a classic Merc, I found this book to be invaluable.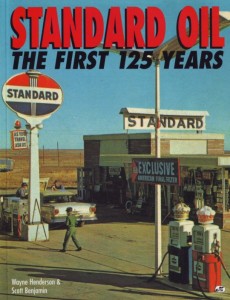 The story that we recently did on restoring a petrol bowser awakened in me an interest in petrol station memorabilia, and so when I saw Standard Oil – The First 125 Years, I bought it.
As the name suggests, the book is a history of Standard Oil and was written by Wayne Henderson and Scott Benjamin; it was published in 1996. As a company history, it's actually pretty dry stuff – but the pics make it worth buying.
There are lots of photos of signs, petrol pumps and oil company souvenirs.
But my favourites are the pics of complete petrol stations – these are often marvellous at showing contemporary architectural, marketing, social and automotive influences.
From the 1925 Esso station complete with numerous new tyres (a reminder that punctures were then common), to the quite modern looking 1938 Amoco, to a neon-illuminated Sohio station in 1954. But my favourite is the glass-bricked, art-deco Pennzoil station of 1941.
I found the book so enjoyable that I think I'll try to get some more covering similar topics.