Today I was lucky enough to drive an interesting car.
A 2003 model AMG Mercedes Benz E55, it comes standard with a supercharged 5.4 litre, 3-valves-per-cylinder V8 boosted by a Lysholm compressor spinning at up to 23,000 rpm and pushing air through a water/air intercooler.
Peak power is 350kW at 6100 rpm, but the real whammy is in the torque – no less than 700Nm is developed from 2650 – 4500 rpm.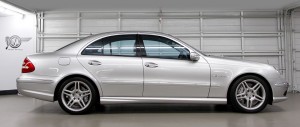 Initial impressions were of complexity – there are an awful lot of obscure knobs and buttons, especially on the car I drove that was fitted with options including dynamic driver and passenger seats (adds lots of controls – some automatic – for seat shape), tyre pressure control, rear sun-blinds, keyless go – and Gawd knows what else.
But having said that, the instruments and controls most often used by the driver were clear and easy – it was the next layer down… and the next, and the next… where things got complex.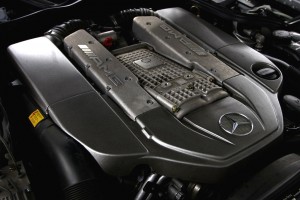 Without a doubt the best aspect of the car was the engine. It hauled like the fastest freight locomotive on earth, a massive amount of torque available at whatever engine speeds you liked.
Performance? Yes, very strong – the factory 0-100 km/h is quoted as 4.6 seconds.
But the steering had that horrible Mercedes Benz slow ratio around straight-ahead (but with some lock on, good, meaty weight and feel), and the initial movement of the throttle was quite non-linear in terms of response – not much happened at first.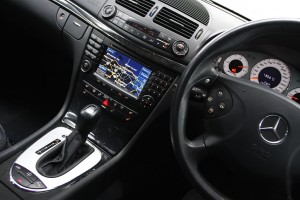 Ride (set at the most comfortable of three settings) was very good; handling equally so. The stability control and traction control systems were refined and effective: it was the sort of car you could throw around after only a short familiarisation.
Impressive? Yes, I think so – especially at the AUD$100,000 they now command. Impressive at the original AUD$250,000+? Perhaps proportionally less so!
If you'd like to own one, contact Paul at www.qsm.com.au – the car is currently not for sale but I am sure a deal could be done…