Yesterday I reckon I spent more time eating than driving.
I attended the launch of the Hyundai i30 in Sydney, an event paid for by Hyundai. And 'paid for' meant flying me down to Sydney from Brisbane (normal class), bussing me to the Sebel Pier One hotel for an overnight stay, giving me breakfast (normal hotel dining room), walking to a reinvented warehouse, watching a presentation on the car, driving it a short way before food and drink refreshments, driving it back to the starting point for a 3-course celebrity chef prepared meal, taking a stretch limo back to the airport, and then flying home.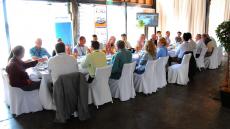 I have real problems with this approach to launching a car. If a car company wishes to gather journalists at one location – and there were something like 20 present – then I guess paying for the flights is fine. But for a single day event, surely an overnight stay is not needed. Maybe even the refreshments at the drive stop are acceptable – although it seems to me that if the stop was placed near a shop, anyone who needed food or drink could buy them for themselves. After all, if they weren't attending a Hyundai new car launch, everyone there would still need to eat.
But I can see no reason for a three-course lunch (In fact, when I think about it, four courses – there were deep-dried dates wrapped in some pastry or other to start with), waitresses at hand, preceded by a spiel from the chef. I think that this clearly falls into these categories warned against in the Australian Journalists' Code of Ethics:
4. Do not allow personal interest, or any belief, commitment, payment, gift or benefit, to undermine your accuracy, fairness or independence.
7. Do your utmost to ensure disclosure of any direct or indirect payment made for interviews, pictures, information or stories.
And if you think a swanky lunch could not be construed as a 'gift or benefit' and certainly not as an 'indirect payment', you might also want to know that every journalist that attended the launch was handed, as a gift, a 4GB iPod nano.
So if you'd like to win a brand new iPod nano, tell us below how you think a 1-day new car launch should be run. I'll announce the winner after a week.
PS: And the car? The diesel version looks like a genuine groundbreaker – and one that we'd like to do a long drive in…
PPS: Read widely and see how many journalists who covered the launch of the i30 disclose the gift…
PPS: When switched on, the iPod shows itself to be empty. However, when plugged into a PC, the full press pack for the i30 appears. But as far as I can see, the entire contents were also on the provided CD…